Indian Rupee is a Sell says Morgan Stanley, Eyeing Tensions with Pakistan and Election Risks
Above: An Indian Air Force MiG 21, the model of aircraft shot down by Pakistan on February 27. Image © Don Pugh, accessed Flikr, reproduced under CC licensing conditions.

- INR slides after skirmish with Pakistan military sees planes shot down.
- Morgan Stanley says sell INR as tensions to escalate ahead of election.
- RBI could also cut rates again in April, dealing further blow to the INR.
The Indian Rupee can fall further against the Dollar and British Pound over the coming weeks and months, according to strategists at Morgan Stanley, who've told clients to sell the currency, a view brought into sharp relief as tensions with Pakistan could easily escalate as India's 2019 general election approaches.
India's government says its armed forces shot down one Pakistani military aircraft overnight in an effort to foil an attack on an Indian military installation, although it also admitted to having lost one of its own aircraft in the process.
#Pakistan Air Force targeted #Indian military installations this morning; IAF detected and foiled the attempt; #IAF shot down 1 Pakistani aircraft; Unfortunately we lost 1 MiG 21 aircraft: @MEAIndia pic.twitter.com/oIC9InOqv5

— PIB India (@PIB_India) February 27, 2019
Skirmishes between Indian and Pakistani military aircraft come barely 24 hours after the government admitted to having attacked a suspected terrorist training camp across the border in Pakistan, in what it said was a retaliation for a terror attack against Indian police forces on February 14.
"India struck the biggest training camp of JeM in Balakot. In this operation, a very large number of JeM terrorists, trainers, senior commanders and groups of jihadis who were being trained for fidayeen action were eliminated," India's government said Tuesday.
A spokesperson for the Pakistani armed forces said Wednesday they has shot down two Indian aircraft after they crossed over into airspace controlled by the military in the wake of a Pakistani attack on Indian armed forces. Markets are now braced for further escalation.
In response to PAF strikes this morning as released by MoFA, IAF crossed LOC. PAF shot down two Indian aircrafts inside Pakistani airspace. One of the aircraft fell inside AJ&K while other fell inside IOK. One Indian pilot arrested by troops on ground while two in the area.

— Maj Gen Asif Ghafoor (@OfficialDGISPR) February 27, 2019
"Yesterday's bombing --ironically on the same day I used the word "nuke" in my title - was the first time ever that a nuclear power has directly attacked another's territory. Of course, things like the 1962 Cuban Missile Crisis were far scarier globally, but a key international relations line has now been crossed," remarks Michael Every, a strategist at Rabobank, who says markets might be complacent as to the risks this conflict poses to financial assets.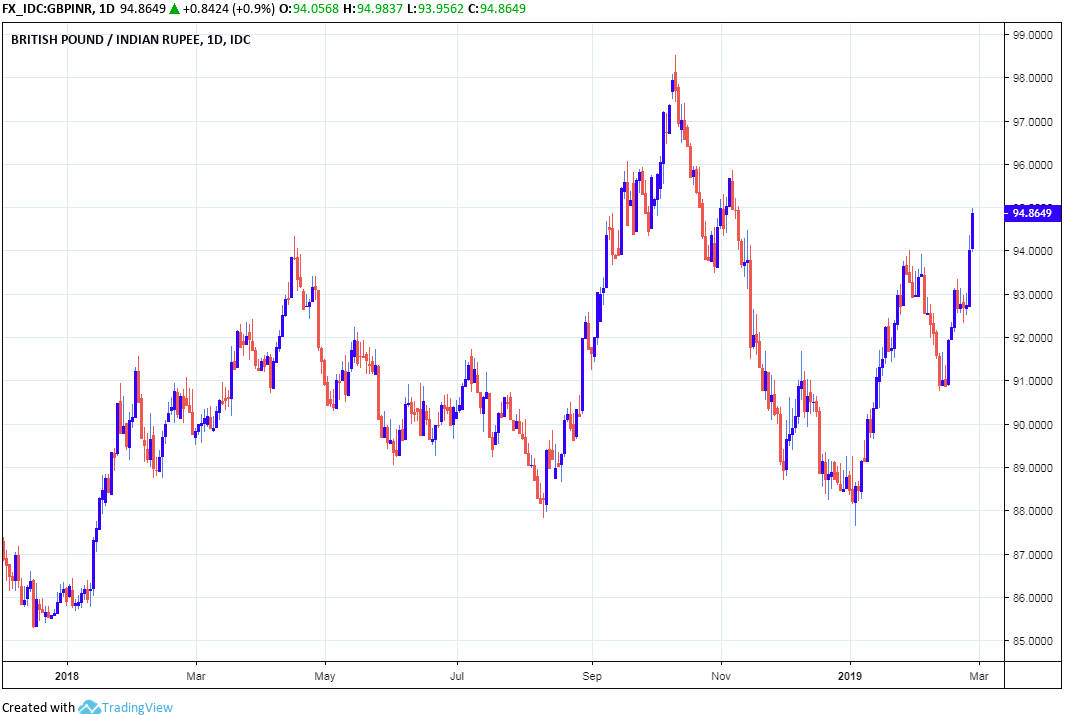 Above: Pound-to-Rupee rate shown at daily intervals.
The Indian Rupee has suffered two successive days of declines against the British Pound amidst a combination of Pound strength and aversion to the Rupee with the GBP/INR exchange rate quoted at 94.86 at the time of writing.
The Rupee had already been struggling with recent weeks seeing the currency failing to rally alongside global assets such as stocks and commodities in response to easing trade war tensions between China and the U.S., while the U.S. Federal Reserve's decision to sit on its hands and not raise interest rates would also typically be seen as constructive for the Rupee.
Indians will go back to the polls at some point in April or May to choose the next government and given the long history of insurgent attrocities to have emanated from Pakistan, being seen as tough on India's smaller neighbour could easily be seen as vote winner by Prime Minister Narendra Modi ahead of the ballot.
This creates scope for a steady deterioration of relations between the two over the coming months, as well as for continued military skirmishes. And the outlook for the Indian Rupee was already challenging enough even before the latest geopolitical developments.
"Geopolitical tensions are rising between India and Pakistan," says Hans Redeker, head of FX strategy at Morgan Stanley. "With India's national election approaching and the tight contest between Congress and BJP, the reaction function of political leaders on both sides may increase the tail-risk related to geopolitics. With the RBI adopting an easing bias and increasing political risks, we continue to like being long USDINR."
Redeker and the Morgan Stanley team are betting against the Indian Rupee at the moment. They say it will depreciate due to a range of factors and are targeting a move up to 74.60 in the three-month non-deliverable-forward rate for USD/INR over the coming months.
"The market could interpret the rate cut as a possible sign of government influence on the central bank. Oil prices have stabilized, removing one tailwind for India. The interim budget pointed to a pause in fiscal consolidation ahead of the election," Redeker explains. "We expect more INR weakness before the election. Risks to the trade include a further rally in EM or lower oil prices."
Above: USD/INR rate shown at daily intervals.
The Reserve Bank of India (RBI) took the market by surprise and cut its interest rate in February, citing improvements in the inflation outlook. Since then markets have come to anticipate another possible rate cut at the April meeting.
Interest rate cuts are almost always bad for a currency because they reduce or worsen the relative-rate differential between one currency and another. However, the RBI's recent cuts have scope to be even more antagonistic for investors given concerns over the bank's independence.
"The RBI's new governor Shaktikanta Das has delivered what the Modi government was hoping for," says Mark Williams, chief Asia economist at Capital Economics. "Mr Das has proved more amenable to the government's wishes than his predecessor in other ways too. For example, he wasted little time after his appointment in easing the lending restrictions that had been imposed on some of the worst-performing local banks."
February's rate cut followed a conflict between the RBI and government of India late last year, which saw finance ministry officials pressure the bank for a higher dividend to be paid to the Treasury and for it to abandon other efforts aimed at addressing the growing pile of toxic debt in the banking sector.
That conflict saw former governor governor Urjit Patel resign from the bank only for him to be replaced by Shaktikanata Das, a former finance ministry official who has close ties to the incumbent government.
Morgan Stanley appears to be of the view that the RBI will cut rates again before the election in order to give the government a helping hand as far as the economy goes ahead of the vote.
The Turkish Lira crisis of 2018, which saw the Lira fall by 60% at one point, how markets can respond to compromised central banks.
Time to move your money? Get 3-5% more currency than your bank would offer by using the services of foreign exchange specialists at RationalFX. A specialist broker can deliver you an exchange rate closer to the real market rate, thereby saving you substantial quantities of currency. Find out more here.

* Advertisement