Silver Price Volatility Could be Signalling the End of a Trend
Image © Adobe Stock
Silver prices spiked above $26 during the course of the past 24 hours and we are seeing prices back down at 24.36 at the time of writing in the mid-week session. Analyst and technical forecaster Richard Perry of Hantec Markets looks at silver's recent price action and sees some warning signs written in the charts.
Silver price volatility has gone through the roof in the past week and a half.
Since the breakout above $19.64 (the old key 2019 resistance), the market has skyrocketed to levels not seen since 2013.
At the high of $26.18 yesterday, silver had added +35% across seven sessions. However, it has been the manner of the moves in recent days which is so incredible.
Yesterday's intraday range of $3.85 was the widest of any session since 2011.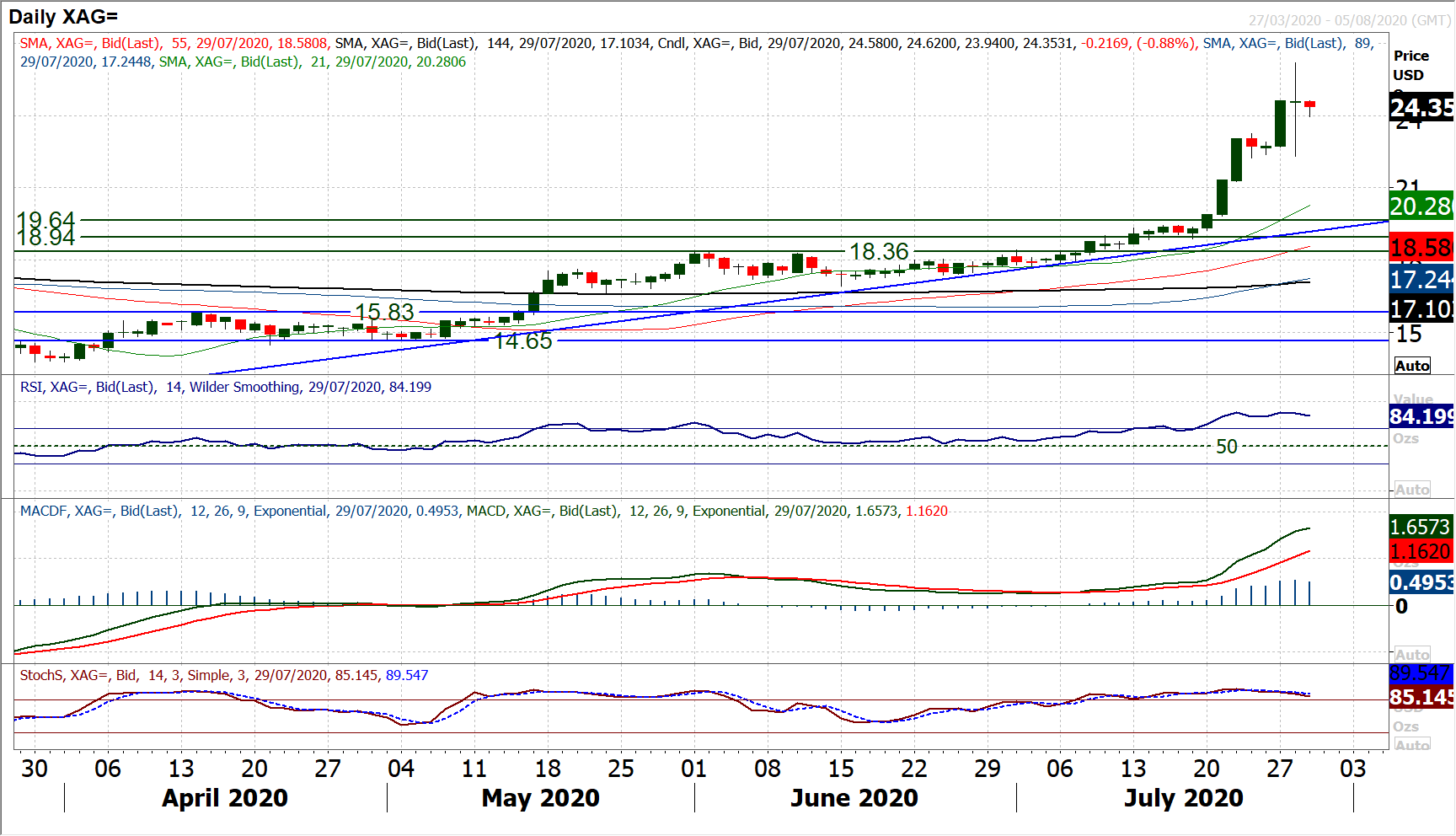 Moves like these tend not to come in the middle of a trend, and will often be more the culmination of an exhaustion move.
Additionally, the RSI is at 87, which aside from the all-time high of April 2011 is the most overbought it has ever been.
It seems unlikely that silver will just consolidate for a while to calm the market down. As the market begins to slip back today, we see a retracement as increasingly likely now.
There was an initial move intraday yesterday, but the bulls were not quite ready to give up yet. An intraday rebound of over +10% to leave an incredible "long legged doji" candlestick leaves significant uncertainty in the bull run.
Initial support at $22.25 is now in place and although way back from current levels, we see it likely that this will be tested again by an incredibly overbought market.
A breach would open a deeper corrective move. The $18.94/$19.64 breakout support would be a prime area for an unwinding retracement.
On the hourly chart the fizzle looks to have going out of the move, with resistance forming $24.74/$24.87.