Gold Price Forecast: "Momentum is Incredibly Stretched on a Near Term Basis"
Image © Adobe Stock
The gold price remains locked in a run of positive daily closes and is currently seen at $1958/ounce. Analyst and technical forecaster Richard Perry of Hantec Markets says despite the move being stretched, the bulls don't yet appear ready to give in.
With volatility elevated on gold, we are seeing sharp intraday swings now.
In yesterday's session, it looked as though the profit-taking was kicking in with a -$73 decline from the $1980 session high. However, a swing back higher into the close leaves the rally at an intriguing point.
The reaction into the close last night would suggest that the bulls are not quite ready to give in.
Despite this, the daily chart shows another positive close last night and a run higher that continues.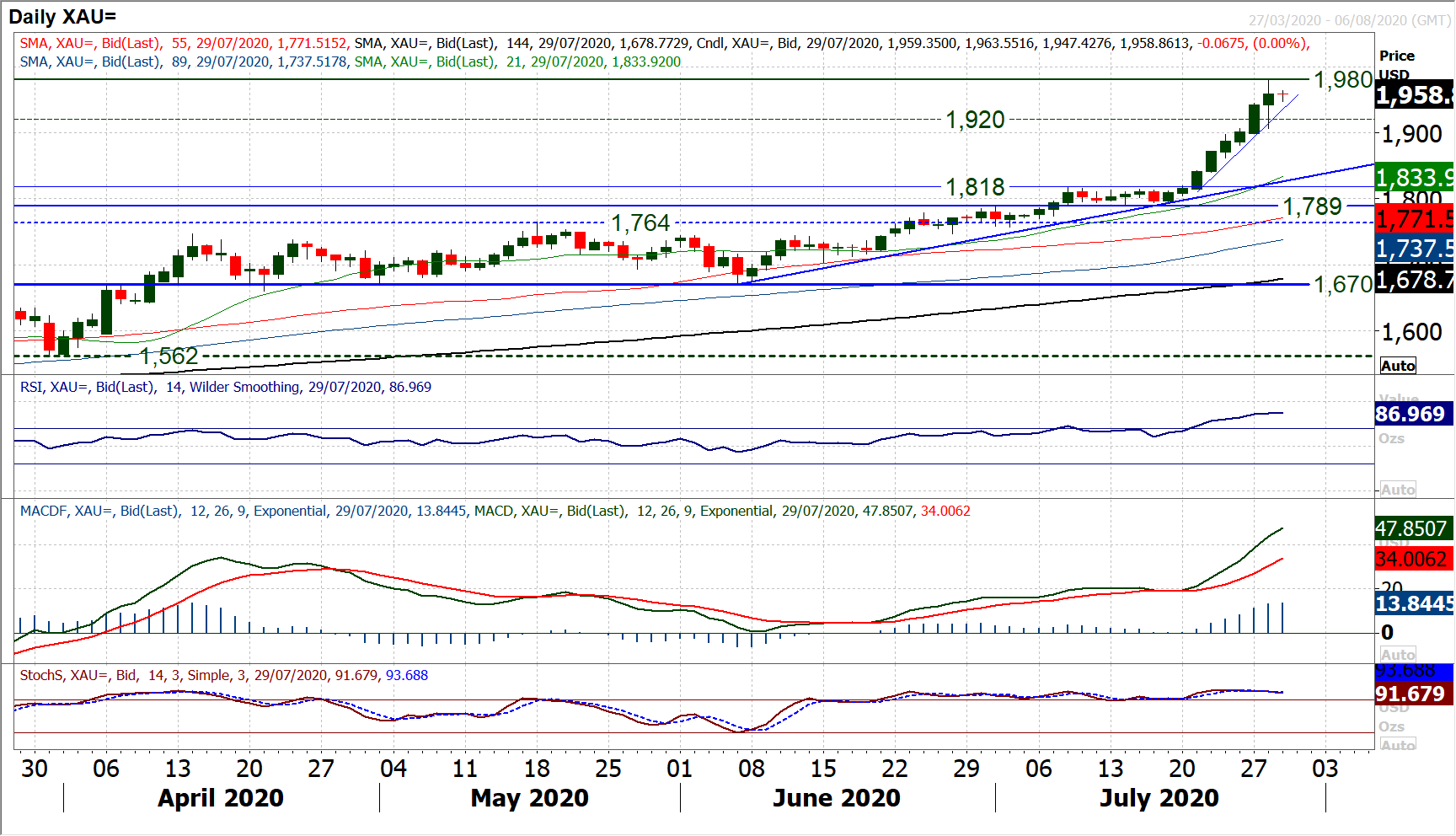 However, momentum is incredibly stretched on a near term basis (RSI in the mid-80s is record levels).
This leaves the gold bull run in its maturity and at risk of near term profit-taking. This is reflected in momentum signals on the hourly chart, which suggest a loss of impetus.
All this coming ahead of the FOMC meeting tonight leaves traders in a sticky position. Whilst gold continues to tick higher, it is hard to back against the run, but once there is a decisive move to take profits, there could also be a sizeable retracement (which we would still ultimately see as another chance to buy).
The market held up at $1907 yesterday and support at $1898 was intact. We still see that $1930 could also be seen as a near term gauge of initial support. Initial resistance at $1963 protects the all-time high of $1980.
Markets Calm Ahead of Fed Meeting
After the elevated levels of volatility across major forex pairs and commodities (precious metals primarily) in recent sessions, we see markets relatively settled this morning.
This comes ahead of the July meeting of the Federal Reserve's FOMC. Markets have taken a view on selling the dollar recently.
Huge increases in COVID-19 infections and deaths have driven several US states to reverse their economy re-opening procedures and reintroduce containment measures.
The impact this is expected to have on US economic underperformance in the coming months has driven yields lower and the dollar selling pressure.
How the Fed reacts today could be a significant driver of either confirming this dollar sell-off, or potentially reversing it, at least near term.
An allowance for higher inflation, and yield curve control are all potentials, but will this happen in a summer meeting?
There has been such a swathe of dollar selling (to extreme near term oversold technical levels), so there may need to be a significant dovish lean from the Fed to drive further downside potential.
Does this set up for a "sell on rumour, buy on fact" near term dollar rebound? This morning, we see little direction on yields, however, an edge of dollar selling is still present.
Yesterday's larger than expected miss on US Consumer Confidence has not helped, neither has news overnight that even the Republicans are against their own fiscal support package.
It will be interesting to see if this dollar selling will continue in the wake of the Fed later today.