GBP/USD Forecast: "Close Below $1.2810 Would be a Rejection of the Breakout"
Image © Adobe Images
The GBP/USD exchange rate is trading marginally lower as Sterling looks to hold onto its strong run that saw it record a fresh multi-week best over the course of the past 24 hours. Analyst and technical forecaster Richard Perry of Hantec Markets gives us the levels to bear in mind regarding the outlook.
Despite a decisive positive candlestick yesterday which included a closing breakout above $1.2810 to a four month high, the dollar is seeing at least a little respite coming in today.
This is seeing a pullback from the early high of $1.2905 and questions will begin to be asked whether this is the early knockings of a dollar technical rally that could pull GBP/USD back near term.
The daily RSI is over 70 currently (which is rare) and confirms the breakout, but equally is looking stretched.
Signals on the hourly chart are inconclusive, but the reaction around the $1.2810 breakout could be a telling signal.
So far this morning, support is holding around $1.2840 and the breakout is being defended.
However, a close below $1.2810 would be a rejection of the breakout and likely see GBP/USD back around the $1.2670 pivot.
We tend to lean towards caution when it comes to apparent sterling strength (due to Brexit trade concerns and potential for negative interest rates) and this breakout does not change this.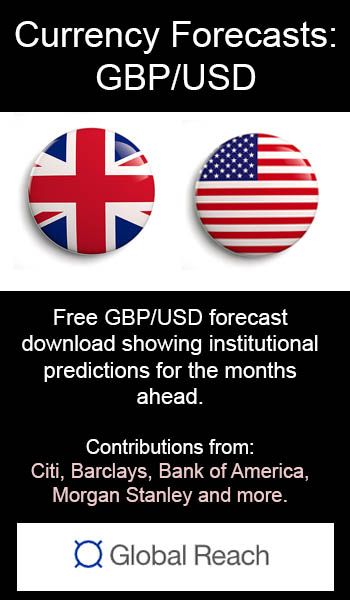 Dollar Could Bounce Near-Term
Selling pressure on the dollar has been a huge factor across major markets in recent sessions.
However, with month-end, a Fed meeting and subtle shifts in the COVID outlook, is this move about to see a retracement and a near term dollar rally?
There are signs that perhaps the increase in US COVID infections may be flattening off, we are beginning to see rates pick up across the Eurozone once more.
Could this subtle shift be enough to take focus away from the perception of US economic underperformance?
The FOMC begins its two day meeting today and the July meeting contains no projections and traders will be wondering where the dovish surprise could come from that would drive renewed selling pressure.
Furthermore, can Congress come to an agreement on the latest round of US fiscal stimulus?
The paycheque support from the CARES Act expires this week and Congress will be eager to see a replacement agreed.
As this all comes together, it is interesting to see some of these extremely overbought markets threatening to pull back this morning.
Gold is -$40 off its overnight high of $1980, whilst EUR/USD, USD/JPY and Cable are all back from their extremes too.
Is this a moment where profits are taken? Month-end positioning also becomes a factor too as the week develops.