Gold Price Forecast: Spectacular Run to All-time Highs Leaves Indicators Looking Stretched
Image © Adobe Stock
The gold price has jumped a further 2% at the start of the new week to reach $1941 an ounce, analyst and technical forecaster Richard Perry of Hantec Markets wonders whether we are seeing a final intraday blowout before a corrective move sets in.
This incredible bull run on gold has now hit an all-time high on a move above $1920 (the previous all-time high from September 2011).
It is a remarkable run (although pales in comparison to the move on silver) which shows little sign of stopping either.
Strong bull candle after strong bull candle as intraday weakness continues to be bought into.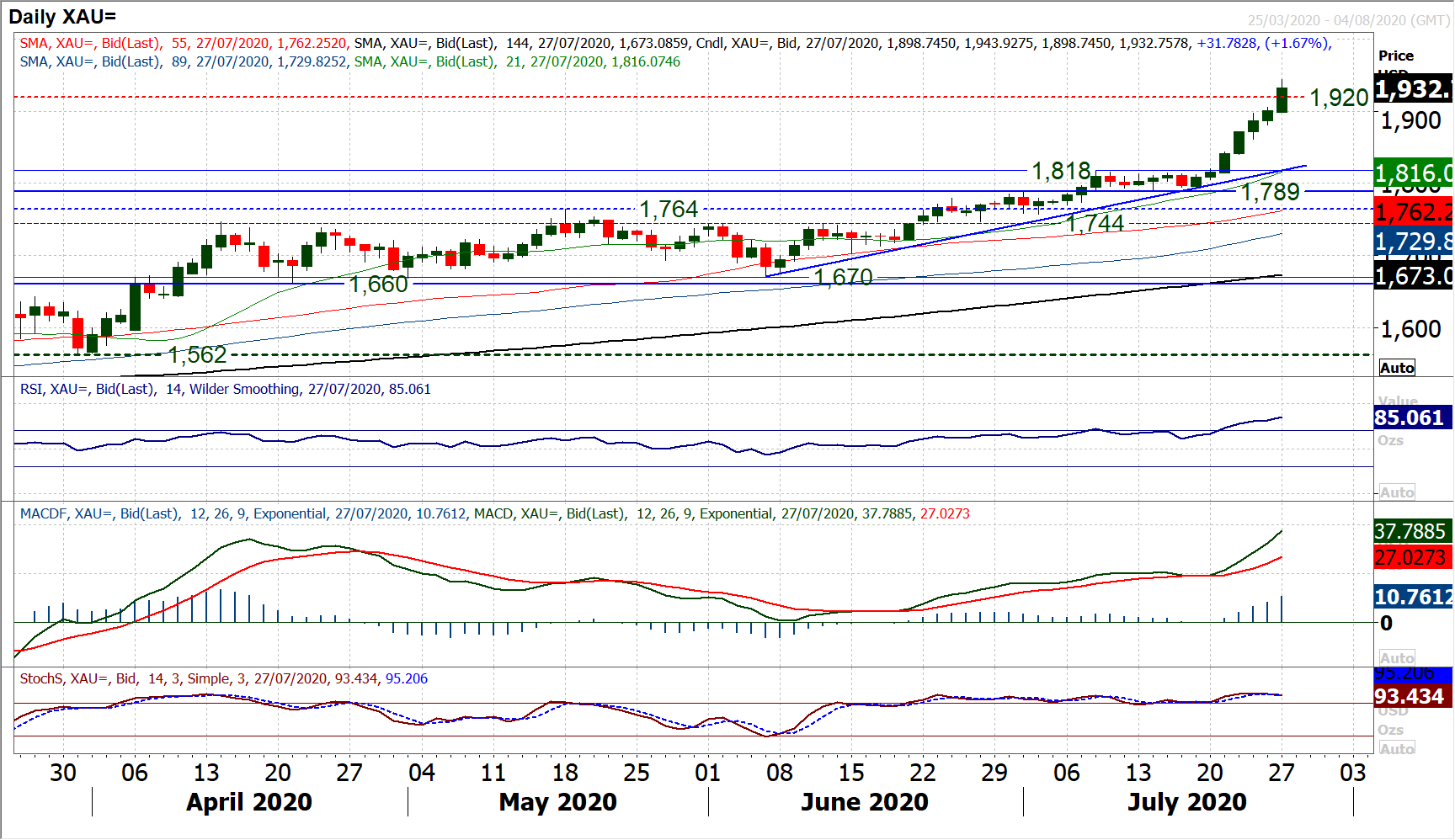 The next level of note is the $2000 round number and psychological resistance.
There are increasing questions of how far this run can last?
Technical indicators are very stretched, and there is a clear risk that the elastic could snap.
Gold has added c. $140 in just over six sessions. The daily RSI is now at 85 (the January rally got to 86 before near term profit taking hit).
Despite this, the developing negative divergences that were on the hourly chart have been broken by this morning's move.
We will often see with these gold rallies that there is a final intraday blowout before a corrective move set in later in the session.
The rising 21 hour moving average (currently $1910) has been a very good gauge throughout this rally of the past week. Initial support is at $1898/$1906.
Dollar's Decline Aids Gold Higher
The market has taken a view on the dollar, and it does not look pretty for the greenback. It seems that every shift in newsflow is being interpreted as dollar weakening right now.
The impact of the tit-for-tat deterioration in US and China diplomatic relations along with increasingly worrying reintroduction of containment measures across several key US states.
However, it is the perception of the US economic recovery lagging in the second half of the year which seems to be the major factor in driving the dollar lower. This was hinted in the flash PMI data from Friday, and economic data for July could paint a worrying picture for the US.
If so, this could usher the Fed towards further easing measures such as yield curve control, whilst there is also a difficult political backdrop of disagreement in Congress over additional fiscal stimulus.
However, it could be that if Congress can come together with a support package of measures, then this could change the course of the dollar this week (at least near term anyway).
Treasury yields are edging lower as the dollar weakens. The dollar has lost its safe haven appeal.
For now, we see EUR/USD ever higher, Cable breaking out, Dollar/Yen breaking down, but the most eye opening moves are coming in the commodities complex.
Gold has finally hit an all-time high in a move above $1920 this morning, whilst in just one week, silver has rallied a whopping +25%. The contrarians will clearly be looking for their opportunities, but for now, the dollar weakness is continuing.
Wall Street closed lower for a second consecutive session on Friday, with the S&P 500 -0.6% at 3215. However, futures are looking a little more stable today, with the E-mini S&Ps +0.4%.
This has enabled a relatively settled Asian session, with the Nikkei -0.2% and Shanghai Composite -0.2%.
European markets are mildly higher in early moves, with FTSE futures +0.1% and DAX futures +0.2%.
In forex, the mass USD underperformance continues, with JPY and EUR the main gainers, but also NZD and AUD suggesting it is not necessarily a risk move, more of a dollar selling move. In commodities, silver of +6% higher, whilst gold has jumped over +$30 to an all time high (+1.8%) this morning. Interestingly, though, oil remains stuck, trading just under -0.5% lower.
On the economic calendar this morning we have the German Ifo Business Climate for July is at 0900BST. Consensus is forecasting an improvement to 89.3 (from 86.2 in June), driven by a pick up in both current conditions and expectations components.
Into the US session, Core Durable Goods Orders at 1330BST are expected to show an ex-Transport growth of +3.5% in June (following growth of +3.7% in May).