EUR/USD Forecast: Breakout a Real Game-changer, but Starting to Look Stretched Near-Term
Image © Adobe Images
The EUR/USD exchange rate broke decisively higher over the course of the past 24 hours, fuelled by the agreement of an EU rescue deal and budget. Analyst and forecaster Richard Perry of Hantec Markets warns caution is advised as the move has become stretched near term.
The euro has been building in strength in recent sessions, but yesterday seemed to be a real game-changer.
Although it took a few hours to get going following the announcement of agreement for the EU Recovery Fund, once the US session kicked in, the dollar got smashed.
Subsequently, EUR/USD flew higher and through a huge resistance at $1.1490 which was the March high but which also now takes EUR/USD to levels not seen since January 2019.
The bulls now need to concentrate on holding this break, which seems to be extremely strong, but stretched and open to profit taking near term.
Momentum confirms the move higher, with RSI into the 70s, MACD lines accelerating higher and Stochastics strong.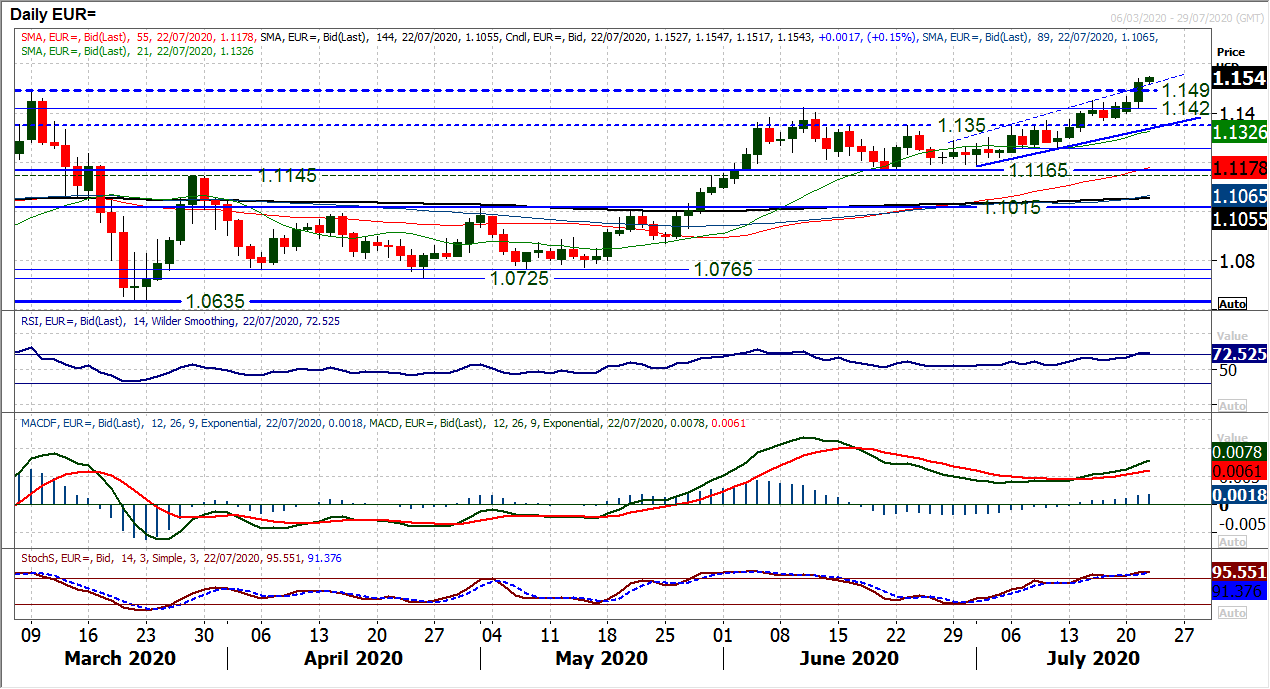 However, the caution would come with how stretched the move has become near term.
Looking over previous key moves on EUR/USD, we see the RSI very rarely gets over 70. The problem is that when it turns back, it invariably comes with a significant unwind.
That would be the fear of chasing this breakout at immediate levels. Whilst momentum is strong, it is stretched.
We are happy to run with the breakout on a medium erm basis, as move above $1.1490 has effectively opened moves towards $1.1800 area in the medium term.
However, we are also mindful of a near term unwind and a close back under $1.1490 could come with a correction. Initial support is at $1.1470/$1.1490, whilst there is still strong support in the band $1.1350/$1.1420.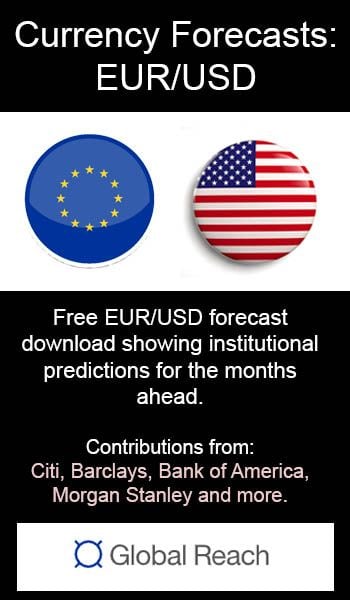 Markets Undergo Decisive Shift
There has been a decisive shift in outlook across major markets in the last couple of days.
The drivers have been a new phase of positive risk appetite, but also a significant breakdown on the dollar.
Strongly encouraging newsflow on COVID-19 vaccination trials have allowed traders to pull forward expectations of when an effective vaccination could be usable.
Furthermore, ever more fiscal support, coupled with a strengthening of EU foundations have arisen from the agreement on the EU Recovery Fund discussions. The net result has been a rout for the US dollar, with the US Dollar Index falling below support at 95.70.
The vaccine progress is a positive for the global recovery, but the US economy is still struggling to contain infection rates and deaths from COVID-19.
A negative impact on the US economic recovery in the coming months is being factored in.
Elsewhere though, this dollar weakness is playing into breakouts on gold, silver, oil, equity markets and several major forex pairs (EUR/USD, AUD/USD, NZD/USD especially).
There may be some near term kick back on these moves, but it looks to have been a decisive shift in outlook for the dollar and period of underperformance seems to be well set now.