EUR/USD Forecast: Still Favouring an Upside Break
Image © Adobe Images
The EUR/USD exchange rate starts the new week on a solid footing at 1.1315 and analyst and technical forecaster Richard Perry says the outlook remains constructive for the Euro.
It has been interesting to see how the market has dealt with the initial failed break above $1.1350.
Pulling back into near term support around $1.1255 (effectively the mid-point of a near term range) was used as an opportunity as the bulls bounced back on Friday.
Ticking higher again today, they are looking to push forward once more to test $1.1350. For a while we have been looking for the breakout of this range to be to the upside and a close above $1.1350 is favoured in the coming sessions.
This would then open key resistance of $1.1420 and on towards $1.1490 in due course.
This rally has been a slow burn for EUR/USD bulls (and still is) but the market is once more positioning for a move to break higher.
The positive medium term bias to momentum points towards buying into weakness, although on a near term basis we continue to see momentum indicators are ranging (daily RSI between 52/61 for the past three weeks).
The mild positive bias on the hourly chart has seen the market edging back above $1.1300 which is an initial basis of support today. Thursday's high of $1.1370 is a barrier.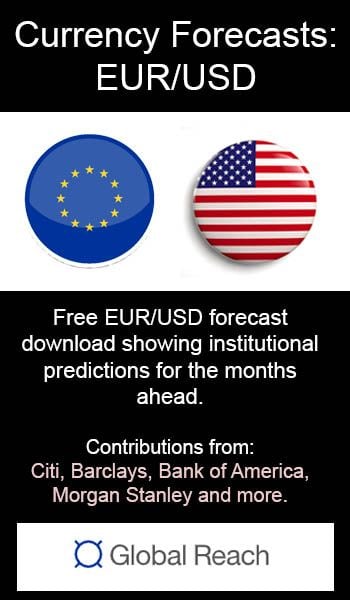 Dollar Weakness Underpins EUR/USD Gains
Appetite for risk has begun the new trading week with a zestful skip as sentiment seems to be looking more positive today.
Despite record daily infections of COVID-19 in the US, and concerns over the trading relationship between the US and China, some good news on coronavirus treatment (from Gilead) have seen the glass half full once more.
It will be interesting to see just how long it lasts this time, as markets have still got a ranging feel to them over recent weeks.
It is the start of US earnings season this week and the focus will be on the forward guidance, given the recent resurgence of infection rates across several major US states.
Treasury yields ticked higher on Friday and are sustaining that move today. It is interesting to see though that even as yields have been trading around multi-month lows recently, the dollar is coming under growing pressure once more.
The dollar is suffering amidst improved risk appetite, but is also not seeing a great deal of traction in risk off either.
It would appear that the dollar is becoming the fall guy for the rising COVID rates in the US.
Forex major pairs continue to reflect this relative weakening of the dollar, whilst the Chinese yuan rate below 7.00 is also a gauge.
Today, we see the dollar struggles continue.