UK Inflationary Pressures Start to Build

UK inflation is rising faster than analysts had initially anticipated and GBP has received the boost we would have expected in such a scenario.
Pound Sterling has edged above the key 1.30 level agianst the US Dollar following the release of the UK's latest inflation data which covers the first full month following the vote to leave the European Union.
The currency was also able to trade above the 1.15 level against the Euro following the release of the figures, but we note the Euro complex is trading with a firm tone following some stronger-than-forecast ZEW readings out of Germany.
Indeed, the Euro remains the currency to beat at present, in our view at least.
We were always looking for the first set of post-referendum price figures to push to the topside noting the fall in Pound Sterling's value would push up the cost of imports which in turn translate to higher prices on the shop floor.
Headline CPI (Annual) rose to 0.6% in July, ahead of the 0.5% forecast.
This suggests that inflation could be rising at a faster rate than those at the Bank of England would like, this in turn suggests the Bank will have to think twice about implementing further GBP-negative policies in the future.
"Sterling has rallied strongly in the wake of the latest UK inflation data, with higher prices for motor fuel, alcoholic drinks and accommodation sparking a 0.6% rise for CPI in Jul, compared with 0.5% in June. That reversed sentiment for the pound, which earlier hit its lowest level against the euro since 2013 after a seven-day losing streak," says Joshua Mahony, an analyst with IG in London.
Latest Pound/Euro Exchange Rates
* Bank rates according to latest IMTI data.
** RationalFX dealing desk quotation.
Inflation Data: The Breakdown and What it Means for Sterling
The main contributors to the increase in the inflation rate were rising prices for motor fuels, alcoholic beverages and accommodation services, and a smaller fall in food prices than a year ago.
The latest data confirms a trend in which the big deflationary move of recent months has come to an end with a bottom forming: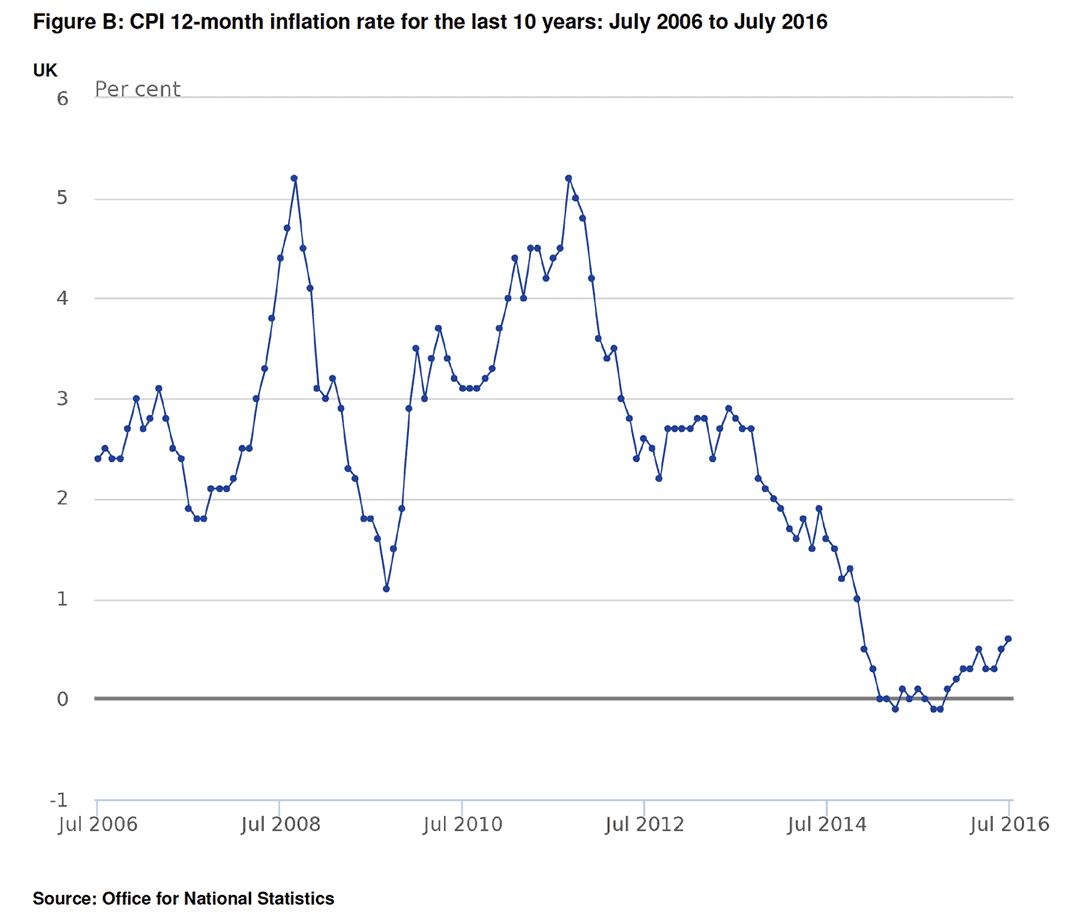 Analysts are unambiguous in that they see further rises coming from here.
"The recent recovery of oil prices combined with mounting downward pressure on sterling means the pickup in UK inflation is going to be sharper than on our previous forecasts, even if signs of the pickup are still mixed in today's first official post-referendum data," says a note from Lloyds Bank following the data release.
Indeed, the Bank of England itself have revised up their forecasts and expect the 2% target to be reached ahead of previously-held estimates.
This suggests that the Bank will have to think twice before implementing fresh interest rate cuts or boosting its quantitative easing programme.
This would be an unambiguously GBP-positive outcome.
In a separate report published this morning, pipeline inflationary pressure is building.
The prices of goods (materials and fuels) purchased by UK manufacturers for processing (PPI total input prices) jumped 4.3% on an annual basis in July, up from -0.5% on an annual basis in June, which follows two years of falls.
This suggests higher inflation is being baked into the goods that, when sold, reflect on the headline CPI reading.
Core input prices (which excludes purchases from food, beverage, tobacco and petroleum industries) also jumped 4.7% on an annualised basis in July, up from -0.3% on an annualised basis in June.
"This is suggestive that the depreciation of Sterling was a factor. Producer output prices rose 0.3% yoy in July, up from a fall of 0.2% yoy in June," says Daniel Vernazza at UniCredit Research.
Attractiveness of Sterling? Modest at Best
While the GBP has received something of a boost on the back of the inflation numbers, we note not many analysts are willing to turn confident on the currency's prospects just yet.
"Most marketwatchers predict that more expensive imports will drive up prices steadily this year. But with CPI so far adrift of the Bank of England's 2% inflation target, no-one expects rising inflation to prompt the Bank to reassess monetary policy any time soon," notes David Lamb, head of dealing at FEXCO Corporate Payments.
Lamb notes that with UK interest rates near zero and the QE money presses rolling at full speed, Sterling's appeal to foreign investors remains minimal.
"As a result, the prospects for the Pound in the medium-term are modest at best. It may have rallied from Monday's lows, but this bounce is likely to be short-lived," says Lamb.