Pound Sterling Buoyed by Falling U.S. Dollar in Risk Averse Market Conditions
"The good news is that the search for the next SVB has not turned up any new victims, yet" - Brent Donnelly, Spectra Markets.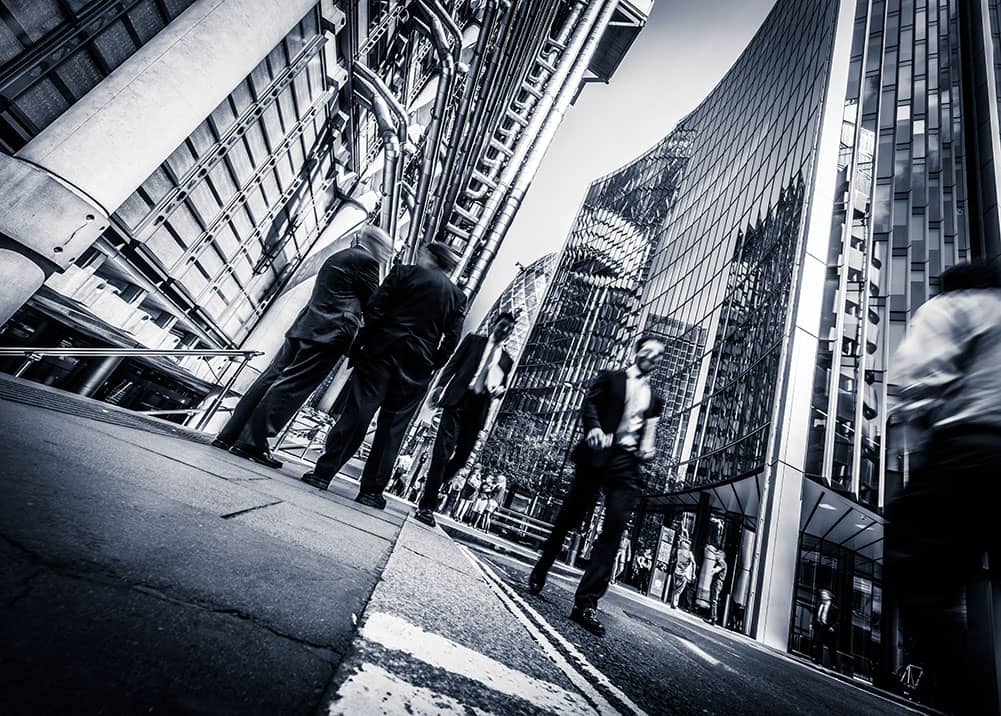 Image © Adobe Image
Pound Sterling rose widely in the final session of the week despite evident risk aversion among investors who shunned sinking stocks and commodities in favour of government bonds while also giving the U.S. Dollar a wide berth.
Sterling gave up ground to the Australian Dollar, Japanese Yen and New Zealand Dollar on Friday but otherwise edged higher against all G20 counterparts while holding buoyantly above 1.21 against a weaker U.S. Dollar.
Fresh losses in stock markets did nothing to encourage 'safe-haven' demand for Dollars, which were sold widely before and after Friday's volley of softer-than-expected U.S. economic data .
"These surveys are extremely volatile, owing to their small samples, but their collective signal is unambiguous," says Ian Shepherdson, chief economist at Pantheon Macroeconomics.
"Absent a strong rebound in the next few months, we will have to cut our forecasts for business investment, making a recession much more likely," he adds in reference to U.S. industrial production figures.
---
Above: Pound Sterling relative to G10 currencies on Friday (on left) and for the week overall (on right). To optimise the timing of international payments you could consider setting a free FX rate alert here.
---
Federal Reserve (Fed) data suggested on Friday that U.S. industrial production did not grow at all in February when economists had looked for around a 0.2% increase, while the University of Michigan (UoM) measure of consumer condifence tumbled for the month of March.
"This month's decrease was already fully realized prior to the failure of Silicon Valley Bank, at which time about 85% of our interviews for this preliminary release had been completed," the university says of its survey results.
"Sentiment declines were concentrated among lower-income, less-educated, and younger consumers, as well as consumers with the top tercile of stock holdings. Overall, all components of the index worsened relatively evenly, primarily on the basis of persistently high prices," it adds.
The data did nothing to reverse the downward drift that has persisted in Dollar exchange rates, to the benefit of Sterling, through much of the week with the only period of exception being the Wednesday session when a rout in European banking stocks weighed heavily on the Euro and other currencies.
European bank stocks were sold heavily following a Wednesday dive in the share price of Credit Suisse, which took place amid much speculative commentary about the short, medium and long-term viability of the bank while coming hard on the heels of several bank failures in the U.S. at the weekend.
---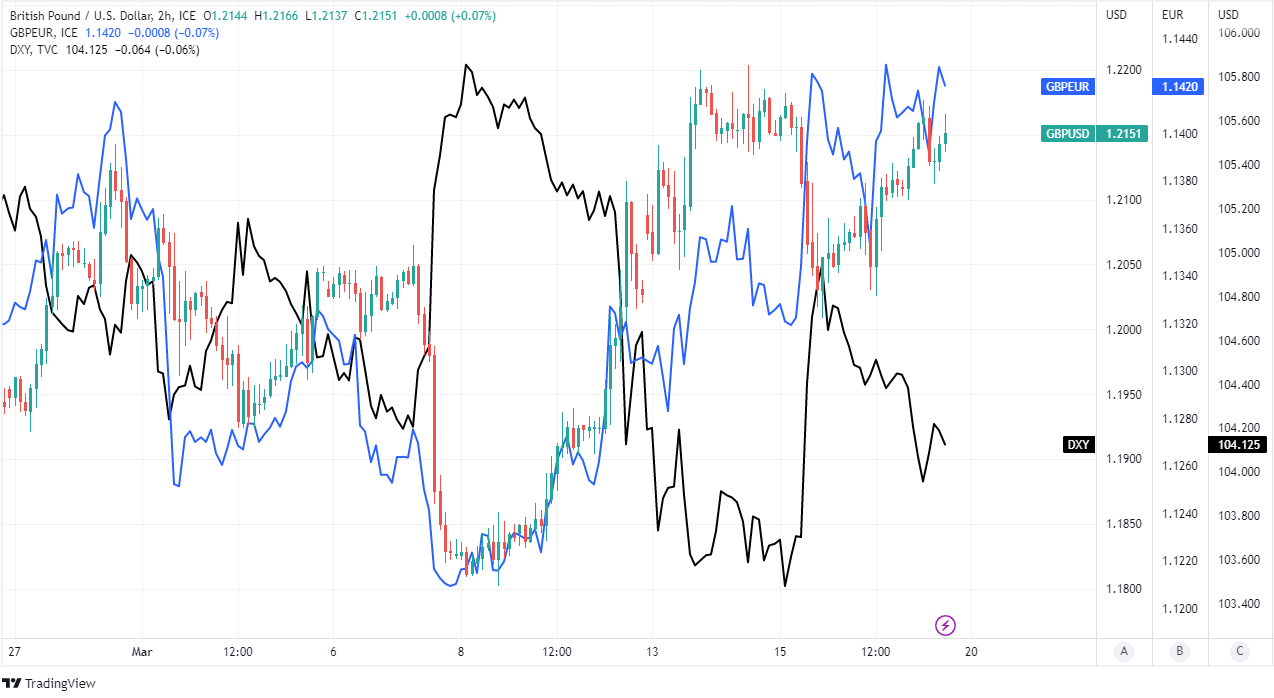 Above: Pound to Dollar rate at 2-hour intervals alongside GBP/EUR and U.S. Dollar Index.
---
"The good news is that the search for the next SVB has not turned up any new victims, yet," says Brent Donnelly, CEO at Spectra Markets and a veteran trader with time spent at hedge funds and a number of global banks including Lehman Brothers and HSBC.
Share markets had staged a recovery on Thursday with banking stocks also bought back in places after Credit Suisse said it would make use of a short-term funding facility provided to it by the Swiss National Bank (SNB) and after a consortium of large U.S. banks rescued a smaller counterpart.
This saw First Republic Bank receive a significant amount of syndicated financing from banks including Bank of America, Citigroup, JPMorgan Chase, Wells Fargo, Goldman Sachs, Morgan Stanley, Bank of New York Mellon, PNC Bank, State Street, Truist, and U.S. Bank.
"I am surprised at the lack of bounce in FRC. The deposit merry-go-round where investors pull their money out of FRC and put it in JPM and Citi and then Citi and JPM put it back in FRC has not restored confidence in the equity," Donnelly says in Friday's edition of the AM/FX newsletter.
Banks and their shares have had a rough ride since funding pressures led to the failures of Silicon Valley Bank (SVB) and others late last week, although banking sector stocks were far from being the only fallers on U.S. and European markets in Friday trade.
---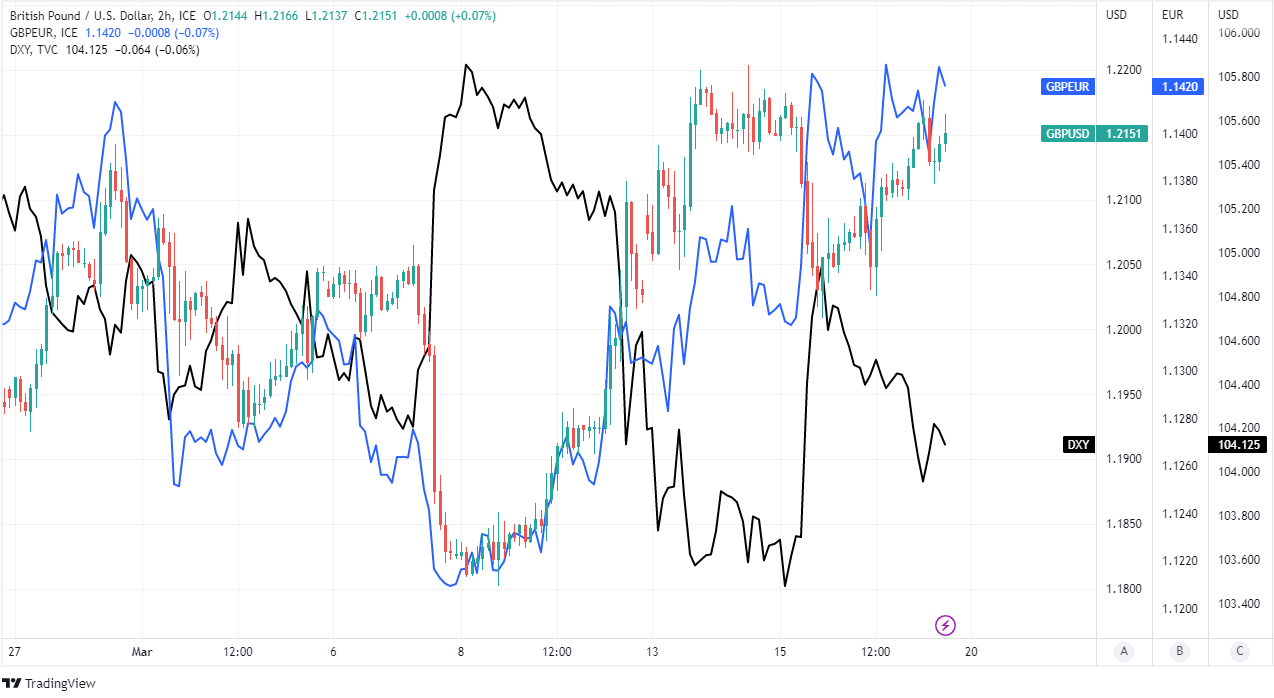 Above: Pound to Dollar rate at daily intervals with selected moving averages and GBP/EUR.
---