The Pound Powers to Fresh Two-Month Highs as Markets Sniff a Brexiteer Retreat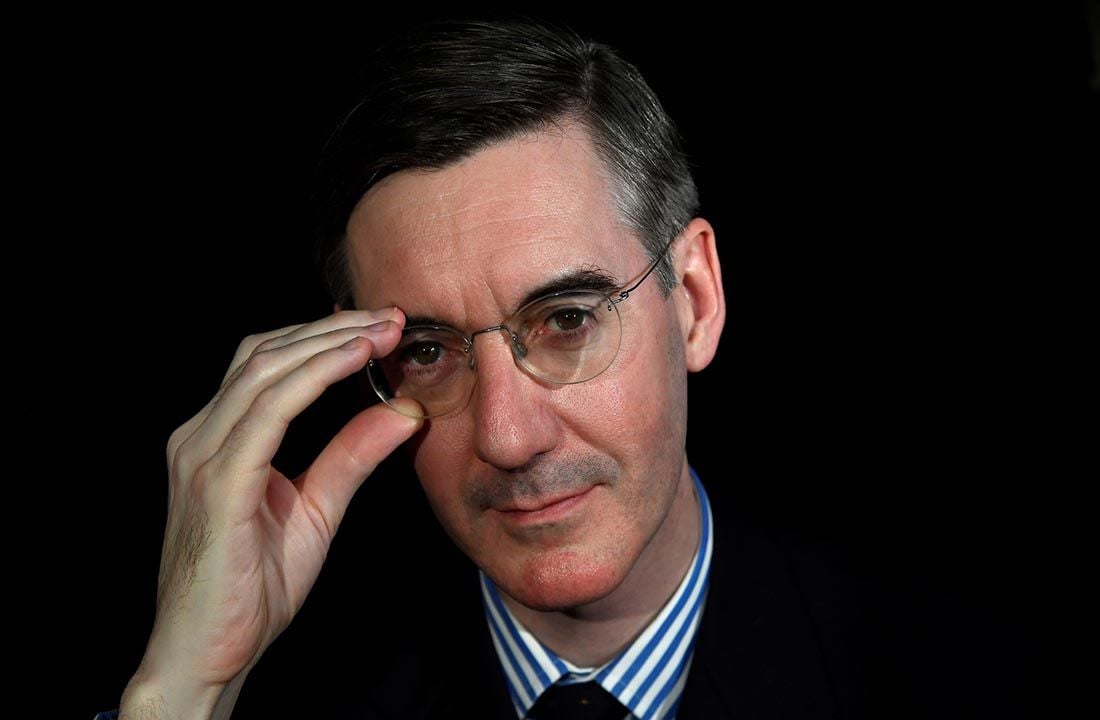 British Conservative Party politician Jacob Rees-Mogg. Picture. REUTERS/Toby Melville.
- Pound Sterling hits new 2019 high just shy of 1.15 on Thursday
- Brexiteers sense Brexit in peril, could swing behind May's Brexit deal

- DUP will back May's deal if timelimit on backstop can be agreed
- Pound-to-Euro exchange rate at 1.1483, today's high = 1.1498

- Pound-to-Dollar exchange rate at 1.3066, today's high = 1.3094

Pound Sterling has hit fresh two-month highs against the U.S. Dollar and Euro on Thursday morning as one of 2019's favourite trade shows it has the legs to run a little further.
Traders have bid higher the British Pound over the past three weeks on an increasingly popular view that the threat of a 'no deal' Brexit is becoming a less likely outcome on March 29.
Adding fuel to the move are signs that Brexit purists in the UK parliament are sensing the Brexit project might be scuppered as remain-favouring MPs establish a mechanism to wrest control of the Brexit process from the government and delay the UK's exit from the EU, or overturn it altogether.
This plays into the hands of Prime Minister Theresa May who is looking to garner support to secure the ratification of the EU-UK Brexit deal, agreed back in October.
"Some MPs are reportedly looking for reasons to back PM May's deal if she can win more concessions from the EU over the Irish border, rather than face the growing likelihood that Brexit will be delayed and possibly reversed the longer they hold out backing a deal," says Lee Hardman at MUFG in London.
The DUP said it would back her deal if she wins a time-limit to the hated backstop. We remain of the view that the support of Northern Ireland's DUP party is critical to the success of the deal - bring the DUP onboard and resistance from other Brexiteers will likely fade. "GBP remains a buy on dips, as chances of a no-deal hard Brexit have fallen," says Hans Redeker, a strategist with Morgan Stanley, adding that any sign of more flexibility from the European Union concerning the Irish backstop could push GBP significantly higher.
DUP Brexit spokesman Sammy Wilson said the price of his party's support would be changing the Withdrawal Agreement to insert a legally binding end date to the mechanism.
Above: The Pound hits fresh 2019 and multi-month highs against the Euro in mid-week trade, confirming Pound Sterling Live's technical forecasts made last week were spot-on.
Leading Brexiteer and Chair of the influential ERG group Jacob Rees-Mogg has stated that "if she can get a deal with the backstop, we'd mostly hold our nose and vote for it. At least then no Brexit comes off the table".
"The Brexit-fond ERG are beginning to realise that if they want any Brexit whatsoever, they'll need to back her deal. The devil is in the detail here; there can't be a climb-down without some concession from Europe on the permanency of the backstop, however flimsy it may be. This nascent reality is expressed in the uptrend," says a note to clients from the UBS currency trading desk.
It has been long acknowledged that a majority of parliamentarians are opposed to a 'no deal' Brexit, fearing it could potentially damage the economy. However, until now the mechanics of how this majority could work to prevent a 'no deal' has been unclear and Brexiteers have been confident that voting down May's deal will lead to a default 'no deal' Brexit.
But with a number of amendments being tabled by Remain-leaning MPs this week, the mechanics of how Brexit can be delayed, or thwarted altogether, has become more clear.
Fearing that Brexit itself is imperilled could well corral Brexiteers into May's camp, thereby raising the chances that her deal succeeds.
Right now uncertainty is only serving to strengthen May's hand: If Brexiteers are less confident a 'no deal' Brexit is the default consequence of voting May's deal down, they are more likely to back it. If May can at the same time sow doubt on whether the Remainers can actually delay Brexit, she could also get their votes as the clock runs down to Brexit day in March. Indeed, the EU 27 would have to vote in unison for an extension of Article 50, there is no indication this will occur.
"PM May will be hoping that the developments will intensify pressure on rebel Conservatives to fall in line and back her deal. If her amended deal is rejected again by parliament, the only viable options will be to shift to a softer Brexit stance or call a general election in an attempt to break the parliamentary deadlock. Overall, we continue to expect the pound to strengthen as 'No Deal' risk diminishes," says Hardman.
Time to move your money? Get 3-5% more currency than your bank would offer by using the services of foreign exchange specialists at RationalFX. A specialist broker can deliver you an exchange rate closer to the real market rate, thereby saving you substantial quantities of currency. Find out more here.

* Advertisement
However, there are some concerns being raised in the analyst community about the longevity of this move higher in Sterling. Analyst Thu Lan Nguyen at Commerzbank in Frankfurt says he would be very cautious to see the move by Remainer MPs to delay Brexit as the basis for further Sterling appreciation.
"Delaying Brexit is far from finding a solution, in particular as the Brexiteers, who are quite vociferous, would never tolerate an indefinite delay of the EU exit. The current GBP strength is likely to constitute just a short breather," says Nguyen.
Brexit's March 29 deadline is approaching, and analyst Jeremy Boulton, an analyst on the Thomson Reuters currency desk says "the chances Britain will leave the European Union without a deal may never have been higher," yet, "GBP traders are getting increasingly bullish".
Boulton notes traders are paring 'short' positions (bets against the Pound) even though the need to hedge the risk of a disorderly drop in Sterling is growing.
"The bullish expectations aren't warranted, considering the political stalemate surrounding Brexit. An extension of the deadline for leaving the European Union would only mean more uncertainty," says Boulton.