Barclays Exchange Rate Forecasts: GBP, USD and EUR
© European Central Bank, reproduced under CC licensing
Currency markets in the midst of a regime change that has seen the tables turned on all of the last year's winners and losers during the second-quarter, prompting a wave of upgrades and downgrades to exchange rate forecasts at Barclays.
Barclays' mid-year forecast update comes as the US Dollar continues its relentless advance against the developed and emerging world currency universe, which has seen the Dollar index convert what was a 4% 2018 loss at the end of the first quarter, into a near-4% 2018 gain by the end of the second quarter.
Accordingly this has seen the Pound-to-Dollar and Euro-to-Dollar exchange rates, both previously darlings of the currency market from a returns perspective, reverse their earlier gains and sink deep into the red for the year-to-date.
A sudden divergence between US economic growth and the pace of expansion elsewhere in the world has been the greatest contributor to the shift although a sharp rise in US bond yields relative to those elsewhere in the world, which is partly a symptom of superior US growth, has also been at play.
The net effect of these trends is that interest rates in the US are now expected to rise faster than they were before, while rates in Europe and elsewhere are seen rising more slowly than they otherwise would have done not so long ago.
In addition, the mounting prospect of a so called trade war between the US, China and possibly even the European Union has undermined global investor confidence and threatened growth not just in the belligerent countries, but elsewhere in the world too.
Political risk has also returned to the fore in Europe as Italy's eurosceptic government gets to work on its policy agenda and as the Brexit negotiations approach their final stages, with implications for growth and exchange rates on the old continent. This is the backdrop against which the latest Barclays foreign exchange forecasts.
The US Dollar index was quoted 0.35% higher at 95.45 at the time of writing and is up 3.44% for 2018.
The Pound-to-Dollar rate is down 0.50% at 1.3105 and the Euro-to-Dollar rate is down 0.52% at 1.1517. The Pound-to-Euro rate is down 0.04% at 1.1377.
Currency Forecasts: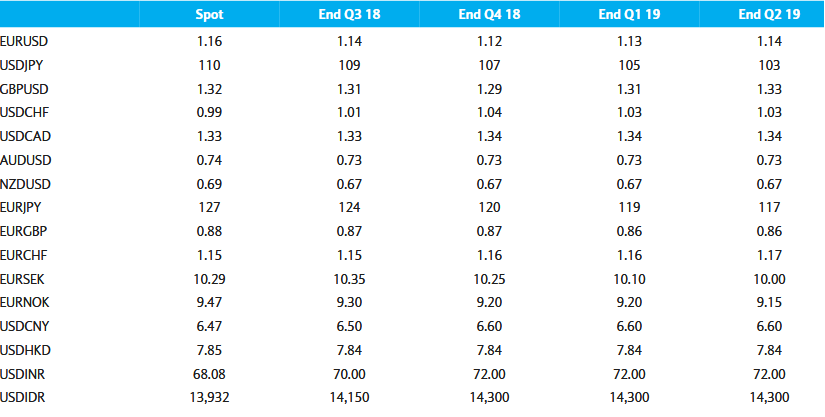 Above: Barclays Foreign Exchange forecasts.

Pound Sterling
"Brexit negotiation outcomes and economic data will likely continue to drive sterling this year. Short-term momentum for GBPUSD appears to be to the downside given our expectations for further EURUSD depreciation, slightly softer UK data and no BoE rate hikes this year vs. market pricing of c.20bp of hikes."
"Beyond this year, our baseline remains for modest GBP appreciation from levels of undervaluation. We continue to expect an orderly albeit lengthy Brexit process, and a "meaningful vote" in parliament largely eliminates the risk of a "cliff-edge" scenario, in our view."

Above: Barclays GBP Forecasts.

US Dollar
"We are revising up our forecasts for the USD across the board, as economic divergence between the US economy and others has exceeded our expectations. We called for a USD bounce within its longer -term down trend, as a fiscal-fuelled acceleration in the US economy interrupted the convergence of other economies to it."
"However, disappointing growth in the rest of the world as the US continues to power ahead has turned a pause in economic convergence into outright divergence. That is increasingly apparent in expected market rates of return and likely will support longer and greater USD strength than we had anticipated."

Above: Barlcays USD Forecasts.

Euro
"Three forces will likely support further EURUSD downside through year-end, in our view: 1) US-EA economic divergence; as US growth accelerates, the euro area lags; 2) monetary policy divergence as the Fed remains on course to deliver two additional rate hikes in 2018 and four in 2019, while ECB forward guidance is consistent with no depo rate hikes through Q3 2019; 3) a reassessment of European political risk premia following the Italy -induced market volatility."
"We see EURUSD bottoming at around 1.12 by Q4 18 with only a modest retracement towards 1.14 by Q2 19, at which point we expect Fed rate hikes to be better priced."

Above: Barclays Euro forecasts.
Advertisement




Get up to 5% more foreign exchange by using a specialist provider to get closer to the real market rate and avoid the gaping spreads charged by your bank when providing currency. Learn more

here