Euro-Dollar Forecast at 1.23 in Three Months by BNP Paribas
- Rally continues to above 1.1830 3-week highs

- BNP Paribas forecast 1.23 in 3 months time

- 'Death Cross' on daily chart, however, could be a spoiler
© moonrise, Adobe Stock
The Euro reached three-week highs after a strong run against the Dollar on Thursday, suggesting a new uptrend may be in play; bulls should act with caution, however, as not all signals are pointing up.
Over the last three weeks, EUR/USD has reversed a steep downtrend and pivoted higher from lows of 1.1510 to the current spot rate of 1.1827 at the time of writing.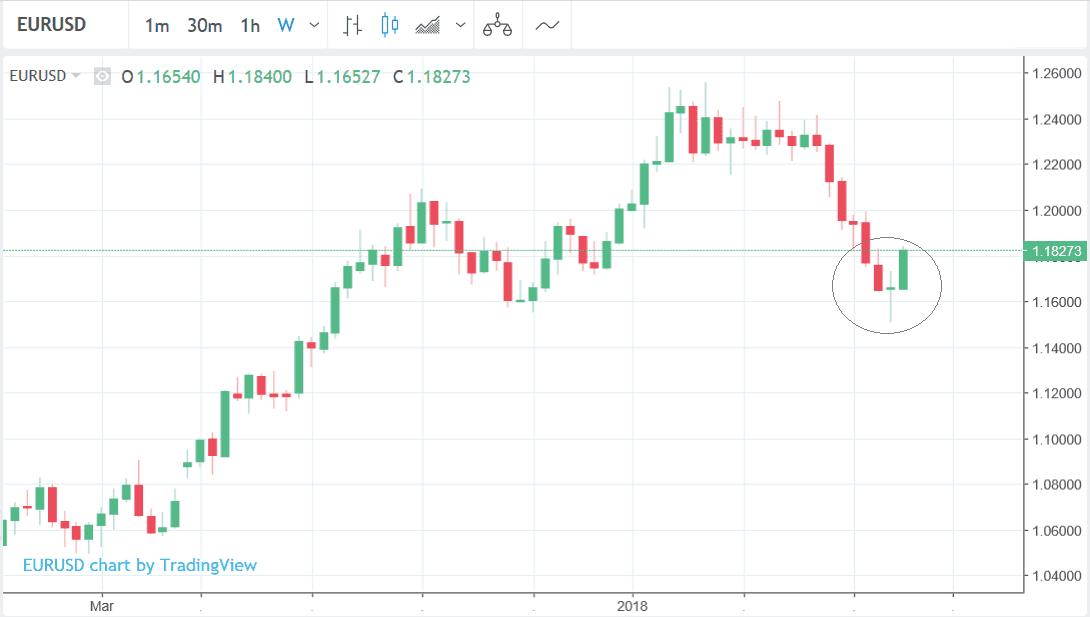 The move above the 1.1830 highs of the week before last is a significant reversal signal suggesting a greater likelihood of a continuation higher.
The main catalyst for the recovery was commentary from the European Central Bank's (ECB's) chief economist Peter Praet who hinted a decision might be made about the ECB emergency stimulus programme, also known as quantitative easing (QE), at the monetary policy meeting next week.
Further comments from other ECB board members, including Weidmann, Hansson, and Knot, who also hinted at an earlier exit from stimulus, added fuel to expectations.
The ECB's stimulus programme keeps the Euro artificially weak, according to analysts, by depressing interest rates which are the fuel that drives capital inflows to countries.
The move is in line with forecasts from BNP Paribas which foresees a strong recovery in EUR/USD over the next three months.
BNP Paribas also expect the ECB to end QE before the end of 2018, leaving the way open to increasing interest rates in 2019 by 0.2% in both June and December of that year.
"That's a bit more hawkish than what the market is currently expecting with regards to the ECB rate hikes. The market is expecting the ECB to hike rates, but the majority are expecting a 10 bps rate hike as early as June 2019 but more realistically during Q3 2019," commented Justin Low, an analyst at Liveforex.com.
A bearish cross on the charts, however, suggests traders should act with caution.
The 50-day moving average (MA) has just crossed under the 200-day MA, giving a bearish signal called a 'death cross'.
"The Euro's bearish trend may not be over," says Vasilis Karamanis, an analyst at Bloomberg, adding, " The euro's 50-day moving average has broken below its 200-day counterpart for the first time in more than two years, forming what is popularly known as a death cross."
Yet he adds the proviso that:
"Still, being a lagging indicator, the pattern doesn't always lead to further losses."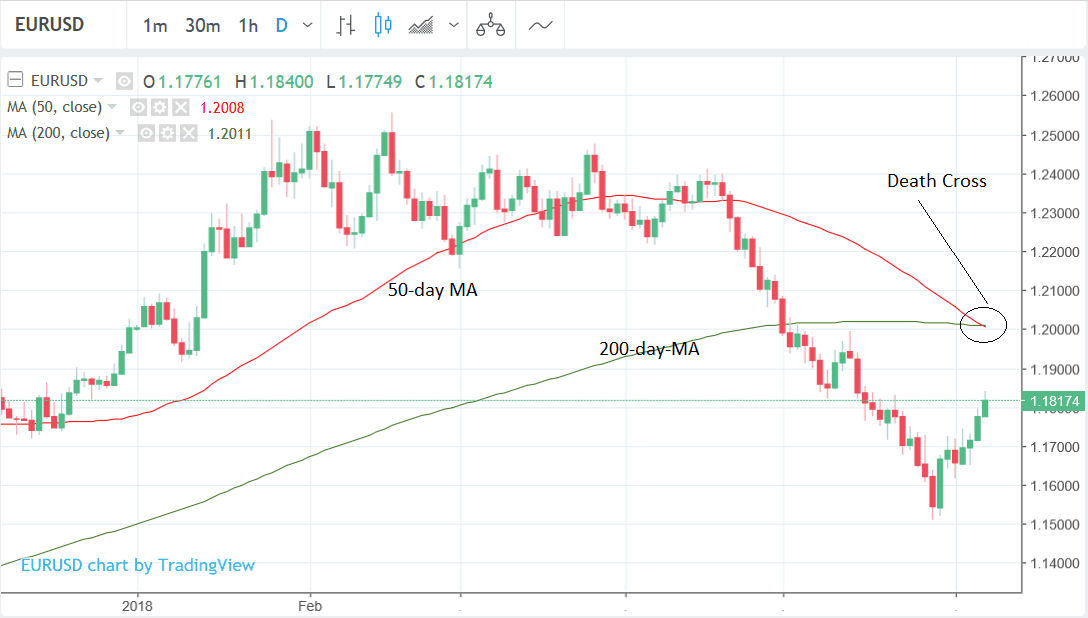 Advertisement


Get up to 5% more foreign exchange by using a specialist provider to get closer to the real market rate and avoid the gaping spreads charged by your bank when providing currency. Learn more here.