Euro Slips as Italian PM Conte Tells Senate Government will Spend Big Creating Potential Showdown with Brussels
- PM Conte hints at Italian divorce with austerity in Senate address.
- But ommits pledge to roll back pension reforms, sales taxes.
- Euro dips against the majors but some are "tentatively optimistic".
© Grecaud Paul, Adobe Stock
The Euro slipped against its major rivals Tuesday after Italian Prime Minister Giuseppe Conte unveiled the new coalition government's agenda in an address to the Senate, ahead of confidence vote that it is expected to win.
Foreign exchange markets were keen to find out just how forcefully the new Italian administration will push back against Eurozone rules seeking to limit national debt.
Conte told newly sworn in lawmakers that Italy's debt, which is equivalent to nearly 130% of gross domestic product, is "today fully sustainable" but that the state needs to reduce it by growing the economy. He also said fiscal policy and public spending must be aimed at "ensuring stable, sustainable growth".
Both comments suggest Italian lawmakers are on course to abandon the fiscal discipline of previous governments, in the hope that increasing spending might lead to more robust economic growth.
But Eurozone membership rules contained in the Stability and Growth Pact (SGP) stipulate that EU countries should have nominal budget deficits below 3% of economic output and public debt below 60%. The reasoning being that for a currency union to work all the members of the union should ultimately be subject to the same tax-and-spend dynamics as this creates the requisite fiscal stability required for long-term success.
"We estimate that in a 'worst case scenario' the government's policies would need additional financing of between EUR100 bln and EUR152 bln a year," says Jane Foley, a senior FX strategist at Rabobank. "This equates to around 5.8% and 8.8% of GDP and is set against a backdrop of a huge debt pile in the region of 133% of GDP."
Fears are that an Italian clash with Brussels over the conditions of the SGP would lead to even greater anti-Euro sentiment in Italy and potentially endanger the nation's place as a member of the Eurozone. Both M5S and League have at various points in the past advocated referendums on Italy's continued use of the single currency.
Above: Euro-to-Dollar rate shown at hourly intervals.
The Euro was quoted 0.24% lower at 1.1678 against the US Dollar after the release, while the Euro-to-Pound rate was 0.58% lower at 0.8735. The Euro was also marked lower against the safe-haven Japanese Yen and Swiss Franc.
The single currency is down 2.25% against the Dollar in the last month and by 2.6% for 2018, partly as a result of a resurgent US Dollar but also because of fears that Italy's anti-establishment government could stoke fresh instability in the Eurozone.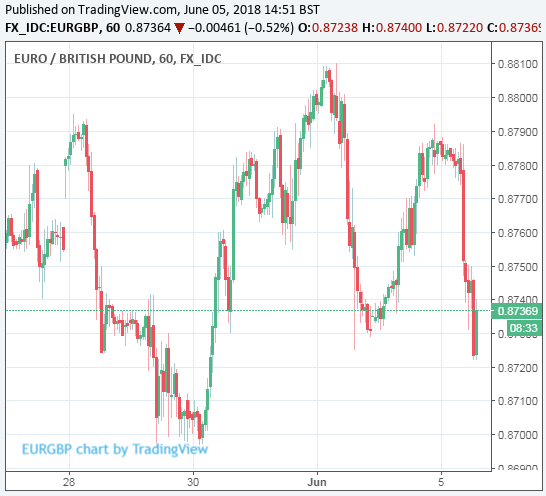 Above: Euro-to-Pound rate shown at hourly intervals.
"The budget promises of Italy's new government are set to re-shape the perceived risks associated with the EUR, which could dominate market focus over the summer," Foley writes, in a recent note. "Even though Brexit-related uncertainty is GBP negative, upside potential for EUR/GBP may be limited if investors anticipate a defiant tone from Italy's populist government."
Conte, a lawyer nominated as Prime Minister by election winners Five Star Movement (M5S) and League, told the Senate he is proud of the changes being brought about in Italy by anti-establishment parties that surged to power following a March election that dealt established parties a punishing defeat.
The previously little-known jurist and professor of law reiterated a pledge to introduce a "flat tax" system but gave no details of any plans. He also made no mention of earlier pledges by M5S and League to roll back a series of 2011 pension reforms and omitted any comments on VAT sales tax rises scheduled for 2019.
2011 reforms abandoned the generous defined benefit pension system, reduced levels of inflation protection for retirees, raised the retirement age from to 67 and made sharp increases to the number of years worth of contributions that must be made for in order to qualify for a state pension.
The reforms were implemented by the technocratic government of Mario Monte, a former European Commissioner, and were seen in Brussels as a milestone moment in efforts to make Italy's public finances more sustainable.
Monte had been voted into office by lawmakers following the 2011 resignation of Silvio Berlusconi, despite his government containing no party representatives or elected politicians. The only party to oppose the appointment at the time was League, operating under the name League Nord.
Conte faces a vote of confidence from the Senate Tuesday, which he is expected to win given M5S and League have a 10 seat majority in the chamber. The same process will be repeated in Italy's lower house Wednesday, where the anti-establishment parties have an even larger majority.
Is this the Nadir for the Euro?
While the Euro dipped lower in the immediate aftermath of Conte's speech, the omission of continued pledges to roll back pension reforms or abandon tax rises could see Tuesday mark a turning point in the Italian political saga that has dogged the Euro for much of the recent month.
Moreover, with European economic data showing signs of turning for the better, at least one strategist is growing more optimistic about the single currency's prospects.
"I tentatively think we are starting to see maybe a little bit of bottoming in terms of the data flows and the surprises in Europe and the rest of the world," says Rupert Harrison, head of cross-asset strategy at Blackrock, in an interview with Bloomberg News.
"We had some very strong German retail sales prints. It is just one bit of data but if you start to see some suggestion that this very dramatic European slowdown in Q1 could bottom and come back a bit, then you would start to see some other currencies performing better against the Dollar, again very short term."
Advertisement




Get up to 5% more foreign exchange by using a specialist provider to get closer to the real market rate and avoid the gaping spreads charged by your bank when providing currency. Learn more

here