EUR/USD Forecast Lower in the Coming Week as Event Risk Piles Up
© ARTENS, Adobe Stock
After a nine month period of calm seas and stellar gains, politics are returning to haunt the Euro, with risks around the German coalition agreement and the Italian election both being underpriced.
The Euro-to-Dollar exchange rate is likely to come under pressure in the week ahead, according to strategists, as a duo of key political risk events loom over the single currency.
European politics come back to the fore on Sunday 04, March when Italians go to the polls to choose a new government and the decision of Germany's SPD party membership, on whether to endorse an SPD/CSU coalition government, will become known.
"It would be understandable if the euro weakened modestly in the run up," says Lee Hardman, a currency analyst at MUFG. "Market participants currently appear relatively relaxed over the outcome from both votes. Demand for euro downside protection in the options market has been relatively modest compared to in the urn up to last year's French election."
The Euro has enjoyed another stellar run in 2018, aided by a stronger economic growth picture and continued weakness of the US Dollar, which drove the EUR/USD rate up to highs of 1.2555 in early February.
Since then the exchange rate has flittered lower toward the 1.2298 level as the Dollar caught a break from previously-relentless selling pressure and Euro bulls took a breather pending further information information from the European Central Bank and, presumably, in light of forthcoming events.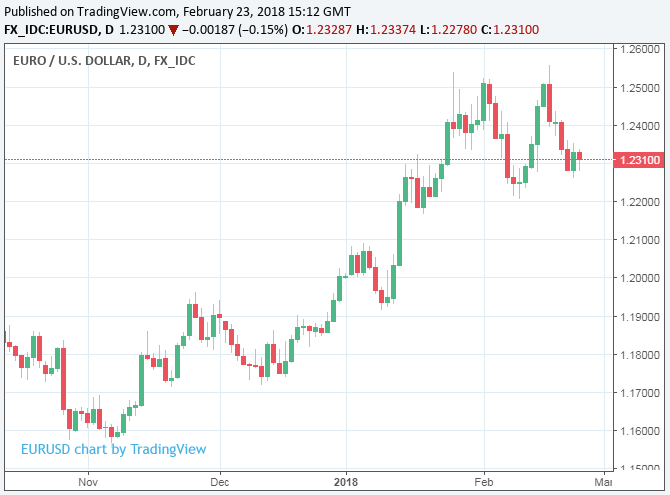 Above: EUR/USD rate shown at daily intervals.
"March 4th is a big day for European politics. We'll see both an Italian election and also German SPD members voting on whether they support the proposed CDU:SPD coalition," says Chris Turner, head of FX strategy at ING Group.
Chancellor Angela Merkel's stuck a deal in February for her Christian Democratic Union (CDU) party to form a coalition government with the Social Democratic Party, almost five months on from September's election.
An agreement required large compromises from both the CDU and SPD and took place against a backdrop of shifting opinion polls, which have shown support for the SPD sliding to an all time low in the wake of the talks.
"Our team think the latter risk [SPD vote] is under-priced, with a 40-50% chance the coalition deal is rejected. There is a scenario that sees Angela Merkel stepping down," ING's Turner adds.
Electoral support for the SPD has slumped from 21% before and immediately after the September election, to a record low of 15.5% in February, according to an INSA/Yougov poll.
SPD is now Germany's third largest party after having been eclipsed by the anti-establishment Alternative Fur Deutschland (AFD) in the latest numbers.
"After a very good run for the EUR, this event risk could see a further scaling back of EUR long positions and a break of 1.2260 in EUR/USD could warn of a sharpish move towards the 1.2100 area. Caution is advised," warns ING's Turner.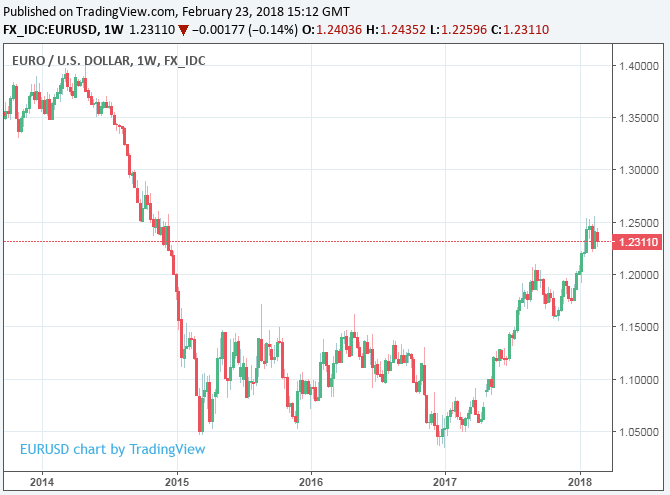 Above: EUR/USD rate shown at weekly intervals.
Sunday 04, March will reveal whether this slide in support is the result of concessions made in coalition negotiations, it having driven too hard a bargain in the negotiations, or if it is due to something else.
If the SPD membership rejects a coalition government then it could lead to a feeble minority government or new elections and a fresh cloud of uncertainty hanging over the Euro.
"With regards to the Italian election, the probability of a market-unfriendly outcome appears low and a benign outcome remains our central scenario," says MUFG's Hardman.
Italy's general election in March is supposed to be the last remaining risk event in the calendar for the current election cycle, and an important one nonetheless.
Almost all of the parties vying for electoral support have made pledges that will place Italy on a collision course with Brussels over public spending and the nation's budget deficit.
The Five Star Movement, Italy's largest political party and a growing anti-establishment force, has pledged to renegotiate European rules on budget deficits and austerity. It has floated the idea of a referendum on Italy's continued use of the Euro in the event the negotiation fails.
"We do not expect the votes to trigger a sustained reversal of euro strength as financial stability in the euro-zone is unlikely to be threatened and solid growth should continue," says MUFG's Hardman.
Opinion polls show no clear leader ahead of the March vote in Italy. The Five Star Movement is averse to entering a coalition, while two separate groupings of centre-right and centre-left parties are vying with each other for first place in polls as coalition forces.
MUFG say a weak government that does not include the Five Star Movement is most likely, meaning a referendum on the Euro and fresh instability for the currency can be avoided. However, not everybody agrees.
"The latest polls suggest that no single electoral coalition will be able to form a government. The most likely outcome therefore is a grand coalition. Yet there is a risk that anti-EU parties could perform particular well. The market is currently pricing limited risk for any bad election outcome," warns Dr. Karsten Junius, CFA, chief economist at J. Safra Sarasin, a Swiss private bank.
The EUR/USD rate was quoted 0.21% lower at 1.2299 during noon trading in London Friday.
Advertisement




Get up to 5% more foreign exchange by using a specialist provider to get closer to the real market rate and avoid the gaping spreads charged by your bank when providing currency. Learn more

here

.