GBP vs EUR: 'Potential for Rebound is there'
The British Pound appears to be stabilising against the Euro following a sharp drop at the start of the week.
We have seen the Pound to Euro exchange rate fall from an open of 1.1637 down to a low of 1.1410.
It has since lifted itself back above 1.15.
From a Euro to Pound perspective, this represents a jump from 0.8593 to a best of 0.8764 and a retracement to the current level at 0.8675.
Are we witnessing the Pound forming a base from where some kind of recovery could take place?
"It is far too early to call it a recovery, but the potential is there nonetheless," says Fawad Razaqzada, Market Analyst, Forex.com.
Razaqzada believes the Pound may be able to make a more significant recovery against the Euro than against the Dollar because of the fact the ECB is a significantly more dovish central bank than the Fed.
"I believe the EUR/GBP has already topped out when it failed to hold its own above the 0.90 handle post the Brexit vote. Therefore the recovery we have seen of late represents, in my view, a normal retracement in what I think is going to be a downward-trending market," says Razaqzada.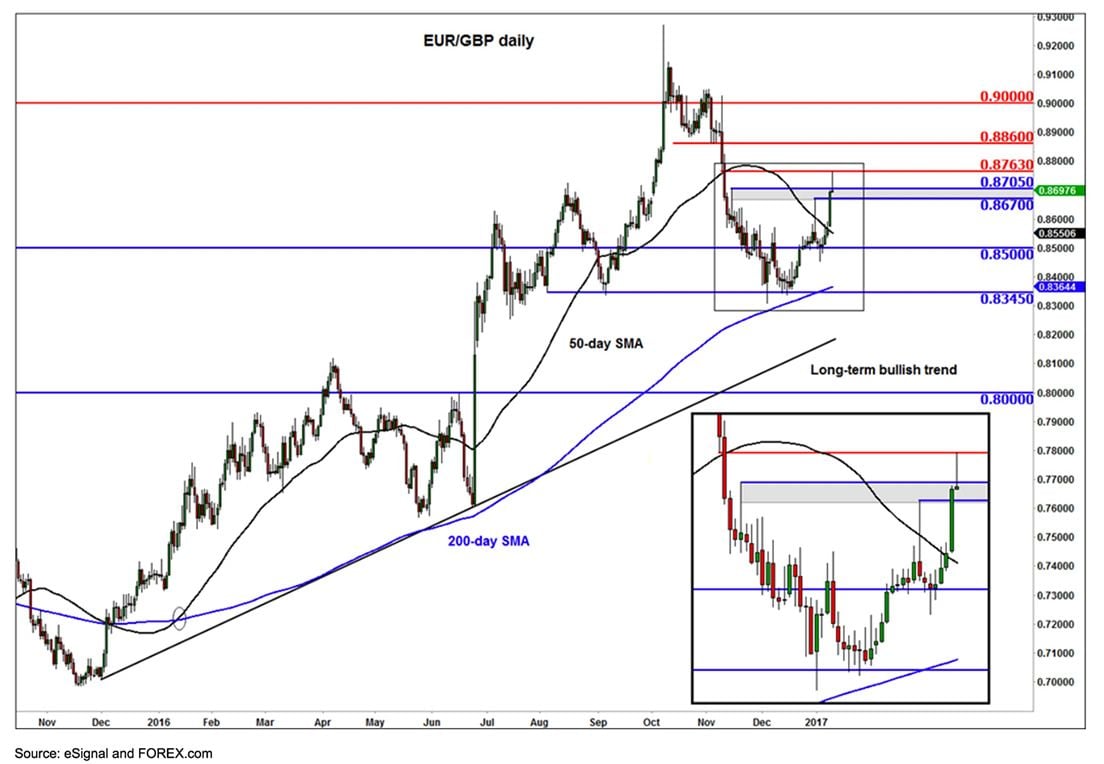 The analyst believes EUR/GBP could stage a much deeper retracement before it potentially falters, but it has respected the 0.8760/5 resistance level today which is interesting to note because the GBP/USD has in the meantime arrived at its own support area around 1.2100, as we highlighted yesterday.
Note these views are at odds with ours that see further upside potential in EUR/GBP.
"In fact, the EUR/GBP is currently displaying a reversal-looking candlestick formation on its daily chart off of this level: an inverted hammer/long-legged doji. This pattern will be confirmed if remains around the current levels by the close of play," says Razaqzada.
Latest Pound/Euro Exchange Rates
* Bank rates according to latest IMTI data.
** RationalFX dealing desk quotation.
The analyst believes the cross would look more bearish if it finds itself back below the broken resistances at 0.8705 or ideally 0.8670 now.
If that happens then Forex.com believe we could see further follow-up technical selling pressure in the days and weeks to come, initially towards 0.8500 but potentially beyond over time.
"In the short-term, my bearish outlook would become invalidated if the EUR/GBP rises above 0.8760/5 resistance level. In this potential scenario, the next bullish objective or line of defence for the bears is at 0.8860, previously support," says Razaqzada.