British Pound to Euro Exchange Rate Forecasts Upgraded by World's Largest Investment Bank
Pound to Euro exchange rate today (16-12-16): 1.1912, week's best: 1.2002, week's lowest: 1.1863
Euro to Pound Sterling exchange rate today: 0.8395, week's best: 0.8429, week's lowest: 0.8331
Analysts at J.P. Morgan have upgraded their GBP/EUR exchange rate forecast for the first half of 2017 but kept their sub-1.10 forecast for year-end intact.
The projections are made in J.P. Morgan's Global FX Strategy 2017 note to clients in which they are tasked with "surveying the rubble" that is GBP's 2016 and making a call for 2017.
The call comes as Sterling sites near the upper end of a multi-week recovery rally from sub-1.10 lows achieved during September.
The rally has barely managed to retrace a quarter of the year's losses confirming the longer-term picture favours the Euro.
The Brexit vote sparked the second-worst GBP crisis of the last four decades for the currency, oscillating in severity between the ERM (-18%) and banking crises (-30%).
"The Pound's alter-ego, the Great Britain Peso, was on show this year as the UK voted unexpectedly to exit the EU, thereby throwing the political and economic landscape into turmoil. We had put the odds on Brexit at around one-third, but had nevertheless recommended hedging the outcome from last November because of the severe, consequences for GBP of Brexit," says Paul Meggyesi at J.P. Morgan.
In the event Meggyesi acknowledges his team were too sanguine about the fall-out – their stretch scenario had GBP dropping by another 10%, whereas the actual peak-trough fall in the trade-weighted index from last November was more than double at 22%.
This establishes Brexit as the second-worst GBP crisis in the last forty years.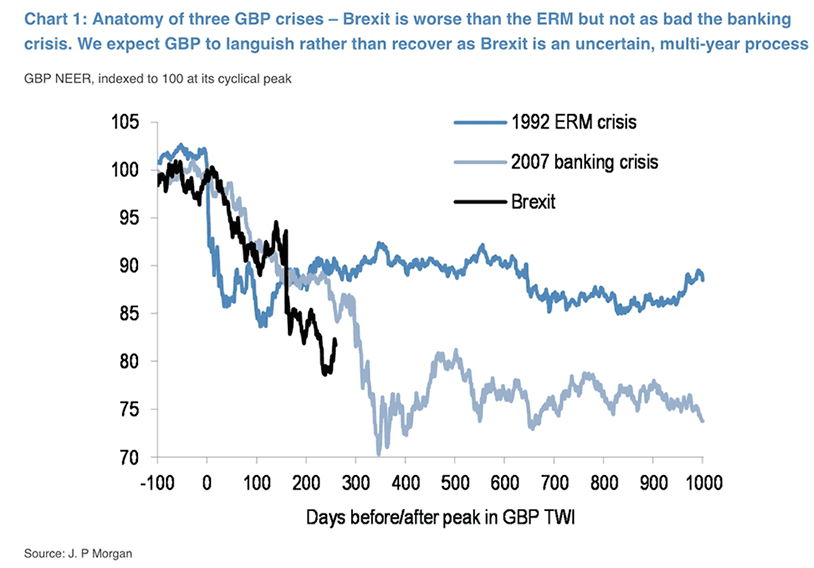 Over the coming year we are told by Meggyesi to expect Sterling to remain sensitive to the distinction between hard vs soft Brexit which boils down to the degree of single market access, including transitional trade arrangements.
"Risks to GBP are two-sided as the hard-Brexit risk premium put in after the Tory Party conference has been removed. GBP could rise or fall 5-10% if the government keeps or rejects single market access (EEA vs WTO), and drift uneasily if the government seeks sector-specific transitional deals," say the J.P. Morgan analyst.
Multiple Changes in Direction
There will be sporadic bouts of instability and the Pound could reverse direction multiple times through the course of the year depending which way the domestic political wind blows.
US and European politics will also impact on GBP.
J.P. Morgan disagree with any notion that GBP fully prices a hard Brexit and we can well imagine it dropping by 5-10% if the UK were to signal its intention to leave the single market, let alone that it would fall back on WTO arrangements during the transition phase and risk major disruption to trade.
"By the same token, there's substantial upside for GBP (up to 10% again) if the government were to compromise on migration in order to maintain single market access," says Meggyesi.
What will help Sterling to an extent is monetary policy which analysts see as acting as a stabiliser for the exchange rate insofar as inflation will be too high for the BoE to countenance a further easing in rates, yet growth too weak to warrant a tightening.
The ~5% recovery seen in GBP since October has actually prompted the Bank to adopt a more relaxed stance on the inflation profile for 2017 in their December policy meeting.
The Bank of England forecasts inflation to hit 2% in six months but they stand ready to act should the UK economy slow.
If they were to act then Sterling will likely fall notably and bring into view the weaker Pound projected by J.P. Morgan for end-2017.
Those with currency payment needs over coming months should ensure they are prepared for all eventualities and protect against downside using the relevant hedges and buy/stop orders on offer at their currency provider.
Revised Forecasts
Analysts at the world's largest full-service investment bank say they have revised their GBP forecast to reflect cross-currents from the confluence of political developments in the UK, US and Europe.
This makes for a heady mix of variables that makes currency forecasting incredibly difficult.
Undaunted, J.P. Morgan have taken a stab and announce they have revised down their GBP/USD forecasts to account for a stronger Trump-USD.
The end-2017 forecast is at 1.26 versus a previous 1Y forecast of 1.29.
Analysts have revised down their EUR/GBP forecast, partly as a mechanistic consequence of a lower EUR/USD forecast, but also to reflect the rotation of political risk to mainland Europe in 1H17.
Latest Pound/Euro Exchange Rates
* Bank rates according to latest IMTI data.
** RationalFX dealing desk quotation.
"European political risk should fade by mid-year and assuming that Article 50 is invoked without too much delay or parliamentary control over the negotiation process, attention should revert to the messy and uncertain business of Brexit in 2H," says Meggyesi hinting at why the second-half of 2017 will likely see the Euro rise in value against Sterling.
"We had thought EUR/GBP would peak at 0.95 in 1Q17 but that forecast is now cut to 0.86 and the rally in EUR/GBP is delayed until 2H17," say analysts.
From a GBP into EUR perspective this equates to an upgrade from 1.0526 to 1.1629.
However, the end-2017 forecast is pinned at 0.91.
This equates to 1.0989 in GBP/EUR terms.
Those with foreign exchange payments due in 2017 would do well to bring these estimates up with their currency provider when discussing the relevant buy and stop orders needed to ensure they get as much currency as possible in coming months.
"Conviction level in the forecast is low and much will hinge on the type of Brexit that the government aims for," say J.P. Morgan reflecting, quite rightly, how difficult it is to forecast a currency when the variables are political.
Analysts at the investment bank believe GBP could still rise or fall 5-10% on the hardest or softest of Brexits and so while the forecast envisages a relatively tight range in GBP, "this is not meant to convey a sense of underlying stability with the path and type of Brexit sill so uncertain."