The British Pound to Recover to 1.25 Against Euro say BNP Paribas

Pound Sterling retains much of the advance made in the first week of November and a number of analysts we follow say the outlook for the GBP/EUR pair now rests between neutral and bullish.
Pound to Euro exchange rate today: 1.1239, day's best rate: 1.1242, day's worst: 1.1209
Euro to Pound Sterling exchange rate today: 0.8898, day's best: 0.8919, day's worst: 0.8894
There remains a chance Sterling continues to appreciate against the Euro over coming days courtesy of the positive momentum provided by the Bank of England's recent decision to turn neutral on policy.
On November 3rd GBP/EUR rallied on the news and broke a key resistance point at 1.1261 from where the ascent stalled and quickly reversed – this price action is likely to disappoint those out there hoping for yet higher exchange rates.
Indeed, the exchange rate is more or less where it was in early October - consider that GBP/EUR started the month at 1.15 and the task of just how much work lies ahead of Sterling becomes clear.
"For now, we remain in a correction process, with divergence in daily studies still unwinding indicating the potential for sideways trading," says Robin Wilkin at Lloyds Bank.
That said, Wilkin says a break of daily trend resistance at 1.1306 could reignite upward momentum, opening up a deeper climb to 1.1429.
Lloyds are looking for interim support levels at 1.1142 and 1.1050.
"It appears that the squeeze on short-GBP positions that we have anticipated has accelerated," says James Rossiter, an analyst with TD Securities in London. "Looking forward, we continue to see upside near-term potential for Sterling to rally against major currencies."
Analysts at Commerzbank meanwhile take note of the fact that GBP/EUR has broken above the 5 month downtrend line: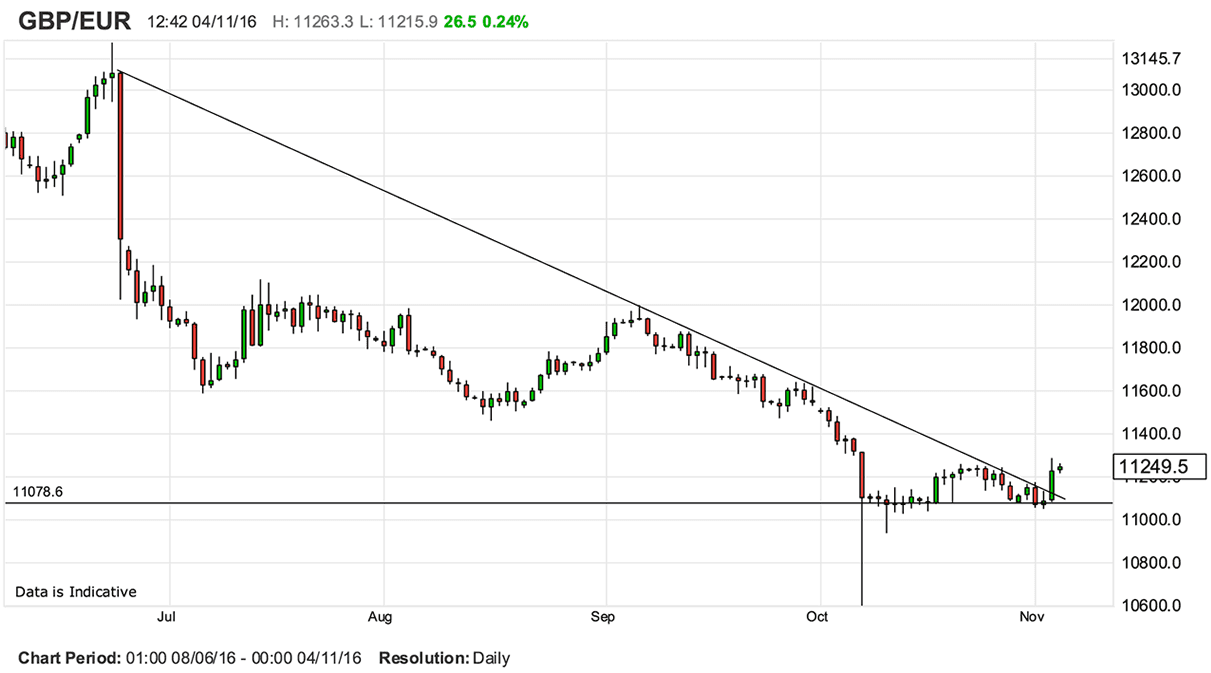 Commerzbank's Karen Jones says the break of the downtrend has neutralised the immediate outlook as the near-term risk has shifted to the upside and she would allow for further gains towards the 1.1462 August low and the 55 day moving average at 1.1470.
However, Jones looks for this level of resistance to hold which will limit upside potential and could be a good point for those with FX payments pending to target.
So while the outlook has certainly improved for Sterling, projections suggest that a meaningful recovery still lies some way off.
"We think the realities of the UK's still highly uncertain outlook are likely to temper the market's enthusiasm for a major GBP rally from here. We expect a correction - possibly extended - to Sterling's downtrend," says TD Securities' Rossiter.

Live Spot Market Rate
Rates available to you:
Independent Specialist's Rate
High-Street Bank Rate
>> what is this?
GBP/EUR
Daily Chart Showing live Inter-Bank Rate and Indicative Rates for International Payments.
British Pound Rally has Further to Run say BNP Paribas
BNP Paribas are one institution who have been backing a recovery in Sterling for some time now; and the recent recovery bounce in the currency has given their call a little credence.
BNP Paribas cite the overcrowded bet against Sterling for one reason to expect a recovery to occur.
With short GBP positioning stretched according to their metrics (-34 on a scale of +/-50) and the currency trading very cheap to their short-, medium- and long-term models, BNP Paribas see scope for this week's short squeeze in GBP to continue.
"From a longer-term perspective, comments from Bank of England Governor Carney are providing a catalyst," says Sam Lynton-Brown at BNP Paribas in London.
Carney noted limits to the BOE's willingness to tolerate above-target inflation.
With the BoE's projections are now looking for inflation to stay above target until 2020, BNP Paribas' economists have changed forecasts and no longer expect further BOE easing.
The weakness of the GBP is an important factor driving BoE inflation expectations and the central bank's message is a reminder of how extreme deviations from long-term currency fair value can drive policy changes which ultimately help restore equilibrium.
BNP Paribas say GBP-buyers should consider taking advantage of Sterling's current very cheap levels.
"Next year, we forecast a rise in GBPUSD back above 1.30 and see EURGBP declining back below 0.80," say BNP Paribas.
EURGBP at 0.80 equates to GBPEUR at 1.25.
Politics are Key Fundamental Risk
A soft start to the new week for the UK currency as markets get the hint from weekend newsflow that Brexit is still going to happen despite the previous week's High Court ruling on Article 50.
A senior Government source has told Sky News on Monday a first draft of a bill to trigger Article 50 is already being prepared.
The source said it was "sensible" for the Government to draw up a bill now in order to keep Theresa May's Brexit timetable on track should it be forced to grant a vote on activating Article 50 through Parliament.
We warned last week the Article 50 ruling only layers more uncertainty on the Pound and should the Government fail to push a bill through Parliament there is the chance of a General Election taking place in 2017.
Indeed, senior Conservative party member Jeremy Hunt has said over the weekend that PM Theresa May will call an election should Parliamentarians vote down the necessary legislation required to trigger Article 50.
The prospect of Sterling rallying with the threat of another general election hanging in the air is minimal.
The dynamics surrounding the US Presidential Election are also key to Sterling's near-term outlook.
Note that the US Dollar is in demand at the start of the new week on news that the FBI is dropping its investigation into candidate Clinton's use of a private email server.
The move appears to be, on balance, negative for the Euro which could assist GBP/EUR higher. "Markets are likely to remove some of the risk premium taken as a precaution against a Trump victory now that Hilary Clinton will not be charged over her use of a private email server," says Ric Spooner at CMC Markets.
Spooner cautions that an element of uncertainty remains over this election and it remains unlikely that markets will make a full 'risk on' move until Clinton is declared the winner.
Polls are also playing a part in foreign exchange moves.
"With a Bloomberg poll coming out giving Clinton a 3 point lead over her Tango-ed opponent, the market's pre-election inspired gains continued this Monday," says Connor Campbell at Spreadex. "The pound and euro, meanwhile, were battered by the resurgent dollar, losing 0.8% and 0.6% respectively. Sterling also shed 0.1% against the euro itself, though still finds itself in a better position than at the end of October."