UK's Covid-19 Testing Capacity Now Best in World
Image © Adobe Images

- Spot GBP/EUR rate at time of writing: 1.1283
- Bank transfer rates (indicative): 1.0980-1.1060
- FX specialist rates (indicative): 1.1100-1.1180 >> More information



- Spot GBP/USD rate at time of writing: 1.2200
- Bank transfer rates (indicative): 1.1860-1.1950
- FX specialist rates (indicative): 1.1970-1.2080 >> More information
One pillar of Pound Sterling's under-performance over recent weeks has been the market's perception that the UK has botched both its coronavirus response and lockdown exit strategy.
An example of this perception was this week expressed by Shahab Jalinoos, Strategist at Credit Suisse, who confirmed he remains bearish on Sterling owing, in part, to a "sense the government may not be best placed to manage a re-opening without hiccups".
Of course, political perception and economic reality are often at odds, but the market ultimately tends to eventually gravitate towards reality.
With this in mind, the following graph from Deutsche Bank is of interest: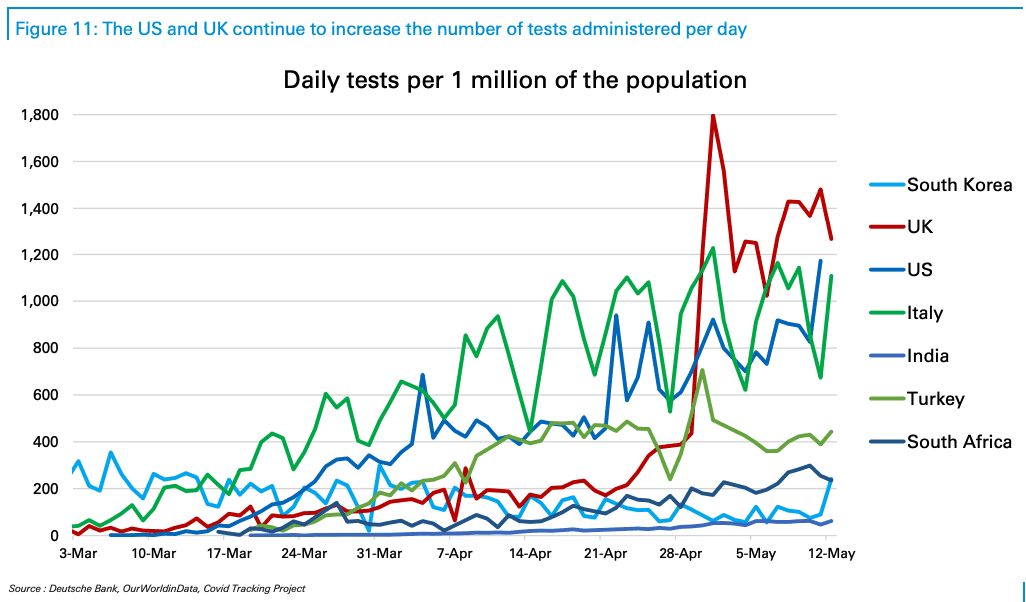 The graph suggests the UK is now testing a greater proportion of its population than any other country in the given comparison.
This bodes well for a future track-and-trace strategy, which is widely considered to offer a roadmap forward for countries exiting lockdown, at least until the golden bullet of a vaccine is found.
The idea is that by having a significant testing capacity cases of covid-19 can be identified earlier and sufferers can isolate sooner. It also provides authorities with the required data to identify any emergent hotspots, allowing for a more granular response to any emergent outbreaks.
With signs that the UK's capacity to test is only going to increase - a new record of 126,064 tests was carried out on Wednesday - then it becomes increasingly possible that the UK in fact becomes one the best-placed to carry out an effective track-and-trace strategy.
It was meanwhile reported on Thursday that Public Health England had approved an antibody test, developed by Swiss pharmaceutical company Roche, for use in the UK, describing this as a "very positive development".
And, on Friday it is reported Abbott has become the second company to win approval from Public Health England to produce a Covid-19 antibody test, "raising hopes that the virus could be tracked and contained successfully in the UK," according to the FT.
The trajectory of the UK's testing capacity should allow for a more assured reopening of the economy, and crucially, will instil confidence amongst consumers that they can get their lives back to some sense of normality which will underpin any economic recovery.
This development is therefore a positive for Pound Sterling. However, we caution readers that this good news comes as anxieties over EU-UK trade negotiations start to rise once more ahead of a June 30 deadline by which any extension to the current negotiating period must be reached.
But, one less headache for GBP will at least minimise the currency's downside potential.
At the time of writing the Pound-to-Euro exchange rate is quoted at 1.1284, the Pound-to-Dollar exchange rate at 1.2204.