Pound-Euro Exchange Rate Forecast to Dip as Trade Deal Fears Ramp Up
Above: File image of Ursula von der Leyen © European Union, 2019, Source: EC - Audiovisual Service, Photographer: Etienne Ansotte
- Danske Bank see Sterling weakness over coming six months
- GBP/EUR forecast to decline back towards 1.12 area
- Market nerves over trade negotiation failure to build
- Eyes on Johnson-von der Leyen talks mid-week
Foreign exchange analysts at Scandinavian lender Danske Bank have told clients they are turning more cautious on the outlook for Pound Sterling, saying the currency is likely to struggle in a market where fears for a 'no deal' Brexit at the end of 2020 remain elevated.
With Brexit due to officially take place on January 31, 2020., the EU and UK are yet to agree a future trading relationship and a failure to strike a deal by year-end could see the two sides enter the default trading relationship as prescribed by the World Trade Organisation.
This outcome is being generically referred to as a 'no deal' Brexit by some analysts in the foreign exchange research community, including Danske Bank.
The Pound rallied sharply in December as markets priced in a sizeable win for the Conservative Party of Prime Minister Boris Johnson, with traders adopting an assumption that a strong mandate for Johnson would ensure the second stage of Brexit negotiations would be smoother and devoid of the domestic political angst that dominated the first round of negotiations.
But, Johnson's promise to not extend trade talks by promising to effectively hard-wire a deadline into legislation, appears to have spooked markets and undermined Sterling's rally.
"Some no deal Brexit fears have been priced in earlier than we previously thought," says Mikael Olai Milhøj, Senior Analyst at Danske Bank. "We had thought it would take a while before Brexit would dominate the headlines again but PM Johnson's renewed promise not to extend the transition period, which is set to end on 31 December 2020, means investors have become slightly more concerned about Brexit,
Johnson will this week look to kick-start the process of EU-UK trade negotiations during a meeting with the president of the European Commission on Wednesday.
Johnson will host Ursula von der Leyen at No. 10 Downing Street, "for opening talks on Britain's post-Brexit trade deal with the EU," reports the The Times.
The newspaper says Johnson is determined that the next phase of Brexit talks will be significantly smoother than the first, which were beset by infighting and hostile briefings on both sides. The outcome of the initial contact between the leaders could well determine how Sterling trades this week, with any apparent progress coming out of the meeting likely to prove positive for Sterling, while early disagreement could well lead to some weakness.
"On Wednesday, UK PM Boris Johnson and European Commission President Ursula von der Leyen will meet to discuss upcoming trade talks, which puts Sterling at risk of heightened volatility. The British Pound has suffered a dramatic sell-off since the historical election last month due to Mr Johnson's hardline stance on Brexit," says George Vessey, Currency Strategist at Western Union.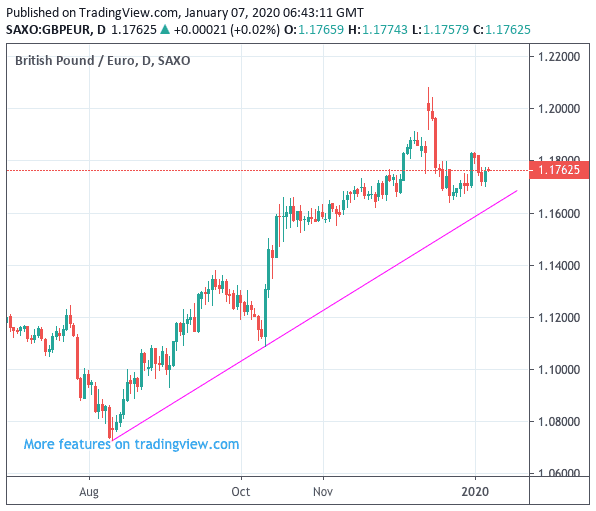 Above: Sterling-Euro remains in an uptrend that has been in place since Aug 2019 * Time to move your money? | Get industry-leading exchange rates and maximise your currency transfer potential with Global Reach. Speaking to a currency specialist will also help you to capitalise on positive market shifts while protecting against risk. Find out more here. * Advertisement
An European Commission spokesman said on Monday that von der Leyen and Johnson would "set the scene" for post-Brexit trade talks at the Wednesday meeting. But the discussions would be broad in nature and won't delve into the details, as this can only be done once the EU's 27 states have given their mandate.
EU leaders will soon look to agree a negotiating mandate to hand their Chief negotiator Michel Barnier. A mandate is being tipped to be agreed by February 15, suggesting negotiation can begin in March.
It is meanwhile being reported in the UK press that the UK is considering holding trade talks with the U.S. in tandem with EU trade negotiations, it is speculated that such a move could help place pressure on the EU to get a deal done by year end.
However, Johnson will be keen to ensure the atmosphere surrounding this next phase of crucial negotiations are held in a positive spirit; this too will be key to agreeing a deal in a timely manner.
Expect the tone and regular briefings on the progress of trade talks to trigger volatility in Sterling over coming months.
"UK/EU trade talks will only start after the UK has left the EU on January 31, the pace and tone of these talk will set the tone for the Pound into the spring," says Jane Foley, Head of FX Strategy at Rabobank. "In contrast to PM Johnson's confidence that a trade deal between the UK and the EU can be completed by the end of this year, recent comments from EU Commission President suggest an extension may be needed."
Pound Forecast to Trade Lower Over Next Few Months
The Pound-Euro exchange rate pushed higher to 1.2081 in December, but has since pared some of those gains to trade at 1.1761 at the time of writing.
But, further losses can be expected according to Danske Bank who are now forecasting the Pound-to-Euro exchange rate to trade at 1.15 in three months, while, "we think impatience and looming no deal Brexit risk will send EUR/GBP higher to 0.89 in late Q3/early Q4," says Milhøj.
EUR/GBP at 0.89 equates to a decline in GBP/EUR to 1.1240.
Negotiations are likely to be protracted and will likely run up until the 11th hour, as typical of international negotiations. This echo the nature of the Brexit Withdrawal Agreement negotiations, and will likely provide the kind of uncertainty that will keep the Pound under pressure.
"In political negotiations, compromises are made when the deadline is drawing closer and we will not be surprised if we see headlines that the negotiations are close to breaking down in Q4," says Milhøj.
However, "our Brexit base case is a simple free trade agreement and when it is in sight we expect EUR/GBP to move back towards 0.84 in 12M," says Milhøj.
EUR/GBP at 0.84 translates into a GBP/EUR conversion of 1.19.
Time to move your money? The Global Reach Best Exchange Rate Guarantee offers you competitive rates and maximises your currency transfer. They offer great rates, tailored transfers, and market insight to help you choose the best times for you to trade. Speaking to a currency specialist helps you to capitalise on positive market shifts and make the most of your money. Find out more here.

* Advertisement