UK Inflation: Analyst Reactions and Forecast Updates
The ONS reports annualised UK inflation for the month of January read at 3.0%, greater than the 2.9% forecast by economists ahead of the release.
Core CPI inflation read at 2.7%, ahead of the 2.6% forecast by analysts.
The largest downward contribution to change in the rate came from prices for motor fuels, which rose by less than they did a year ago.
The ONS reports the main upward effect comes from prices for a range of recreational and cultural goods and services, in particular, admissions to attractions such as zoos and gardens, for which prices fell by less than they did a year ago.
Analyst Reactions and Expectations
This Spells for Three Rate Rises
Paul Hollingsworth, Senior UK Economist at Capital Economics:
"Looking ahead, inflation should drop back this year as the impact of the post-referendum drop in the pound continues to fade. Note that producer input and output price inflation both ticked down in January. As a result, we think that CPI inflation will end this year at around 2¼%.
"Somewhat counterintuitively, this may make it easier for the MPC to hike interest rates, as it helps to ease the squeeze on consumers' real incomes, the largest constraint on spending growth at present, which should help the economy to pick up a bit of pace. Indeed, we think that stronger growth will allow the MPC to hike interest rates by three times this year, more than markets expect."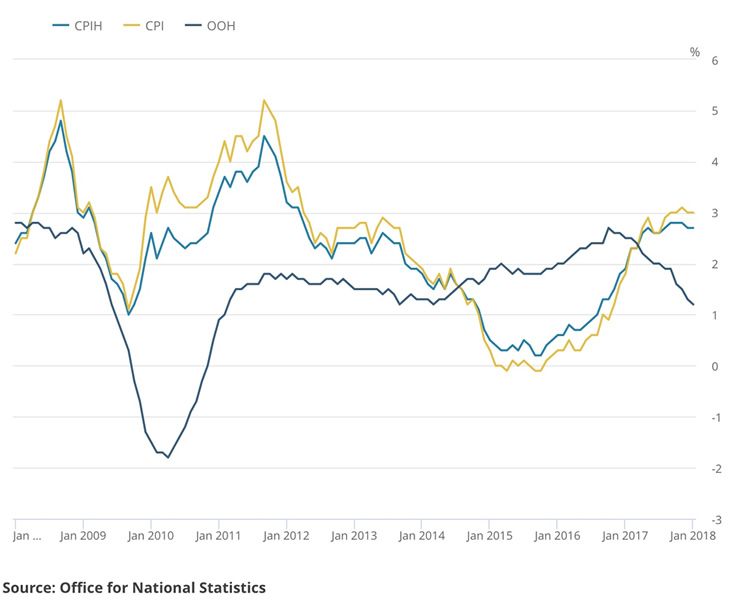 Falling Pound to Ease Prices Going Forward
Dennis de Jong, Managing Director at UFX.com:
"There is no breathing space for Mark Carney and the Bank of England who continue to battle with high inflation, though at least that figure has steadied and not risen further.
"Despite many expecting the figure to drop, inflation remains at 3%, sitting way above the Bank's 2% target, though policy makers will at least be pleased to see producer prices fall back.
"The Pound has performed well during the early part of the year and that should feed into next month's reading, with many expecting inflation to start dipping significantly as we head into the spring."
Fall in Inflation Delayed
Daniel Vernazza, Chief UK & Senior Global Economist at UniCredit Bank:
"The fall in inflation will likely be more gradual now than we initially expected and could be delayed. Visitor attraction admission prices tend to be set in advance for the next year, which would lift inflation slightly throughout this year. Moreover, the rise in oil prices since June 2017, coupled with a negative base effect from falling oil prices in the first half of 2017, may delay the fall in inflation."
Opening the Door to three Interest Rate Rises
Philip Shaw, Investec:
"We stand by our judgement that CPI inflation will fall relatively rapidly. Our own forecast for Q4 this year is 2.1%. By contrast the BoE's latest baseline projection stands at 2.4%. A key factor is the extent of higher costs that firms have yet to pass through from the weakening of the Pound over the past year and a half.
"There is undoubtedly more to come. Even so our assessment is that this should be modest compared with the past year, especially bearing in mind that sterling has recovered by around 5% in trade weighted terms since its lows last summer.
"But we stand by our forecasts that the MPC looks set to raise the Bank rate again by 25bps to 0.75% in May and subsequently to 1.0% in November. We expect a fourth hike in the cycle to 1.25% to follow in May next year."
Inflation Peaks, but this Overshoot Risks Being Protracted
Nikesh Sawjani, UK Economist with Lloyds Bank:
"In our view, inflation has now peaked. However, over the coming months, the CPI reading is forecast to only fall back very gradually towards the Bank of England's 2% target. The view remains that as the effect of Sterling's post-EU referendum decline starts to fade, inflation should fall back.
"However, at the same time, domestic price pressures stemming from rising wages and tightening capacity constraints are expected to build. Overall, we expect these forces to combine to temper the rate at which inflation falls back towards 2% over the next three years, with the risk that the overshoot proves more protracted."