Barnier Pushes for October Brexit Trade Deal, UK Rejects Accusation it Has Not "Engaged Constructively"
- Barnier ramps up blame game for stalled talks
- Says UK not engaging constructively
- Pound shrugs at comments
- UK offers strong rebuttal
Above: File image. Michel Barnier, Chief Negotiator © European Union, Source: EC - Audiovisual Service / Photo: Lukasz Kobus
The EU's Chief Negotiator Michel Barnier has given an update on the state of play in EU-UK Brexit trade negotiations, confirming that there has been little progress in the core areas of fishing rights, the 'level playing field' provisions and future governance.
"We have no more time to lose. We must have a final agreement by the end of October if we're to have a new partnership in place by January 1," said Barnier.
Barnier made the comments to the Institute of International and European Affairs, having left a meeting in London with his counterpart David Frost.
Barnier said the UK has not "engaged constructively" and expressed particular disappointment on a lack fo progress on the outstanding issues of the Level Playing Field, fishing rights and governance.
The comments appear to have been met with indifference by foreign exchange markets: the GBP/USD exchange rate has suffered a sharp fall, but this is almost exclusively due to a broad-based comeback by the U.S. Dollar. The GBP/EUR exchange rate - which some analysts have considered to be the more instructive gauge of Brexit related sentiment - remains in a short-term uptrend, reaching fresh the 12 week highs on Thursday at 1.1280.
This suggests foreign exchange markets might have already accepted talks are at a deadlock and that a politiacl solution might be reached by EU leaders and Prime Minister Boris Johnson in October.
The UK Government rejected Barnier's accusations.
"Barnier's speech is a deliberate and misleading caricature of our proposals aimed at deflecting scrutiny from the EU's own positions which are wholly unrealistic and unprecedented," a UK government spokesman told journalists in response to Barnier's comments, adding:
"We have been consistently clear that we are seeking a relationship that respects our sovereignty and which has a free trade agreement at its core, similar to those the EU has already agreed with likeminded countries."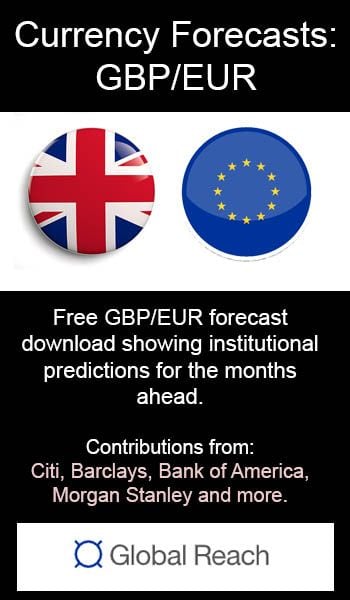 The three contentious issues mentioned by Barnier as holding talks back are unlikely to be unlocked by negotiators and a new political mandate is required.
On fishing, Barnier said the UK was using EU fishermen as a bargaining chip in negotiations: "we fully understand and respect the UK will become an independent coastal state outside the Common Fisheries Policy, but we will not accept that the work and livelihoods of these men and women be used as a bargaining chip."
On the level playing field question, Barnier said: "we have no wish to intervene in the UK's domestic affairs. But how can we conclude a long-term economic partnership agreement without knowing which system of state aid or subsidies the UK will put in place?"
The level 'playing field' refers to the EU's desire to have the UK sign up to a host of EU rules and regulations governing state intervention in the economy. By aligning the UK's state aid programme with that of the EU it is believed neither side would gain an unfair advantage.
The UK has however argued that as a sovereign state it should not have to accept EU rules and regulations, particularly as such requests have not been made of other countries which have already secured free trade agreements with the EU, such as South Korea and Canada.
Regardless of the impasse, Barnier said he was still hopeful that a deal could be reached.
"Despite current tensions ... I continue to think, despite current difficulties, that PM Johnson wants an agreement with the EU. We will do everything in our power to reach an agreement until the very, very end," said Barnier.
The two sides will start another round of talks in London on September 07.
---
Achieve 3-5% More Currency: The Global Reach Best Exchange Rate Guarantee maximises your currency purchasing power. Find out more.
Brexit Helpline: Free one-on-one financial, currency, pension and legal guidance and preparations for 2021.
Find out more

Invest in Spanish Property. A selection of discounted properties due to the covid-19 crisis, online viewings and transactions possible. Download the guide. Download the Guide
Featured Content
Mortgage Direct - a Spanish mortgage broker specialising in the provision of mortgages for expats - have confirmed they have secured their Spanish license.