Investors Warned to Prepare for Biden Presidency
Photo by Adam Schultz / Biden for President. Displayed under CC licensing
With three months to go until November's presidential election, investors should begin to prepare for a possible Joe Biden victory, according to Paul Craig, portfolio manager at Quilter Investors.
Republican presidents are often seen as more favourable to investors as they are historically more aligned to lower taxes and less government involvement in markets. However, following the Covid-19 crisis, incumbent Donald Trump has seen his chances fall sharply according to the polls.
Given recent polling data, Craig believes it is prudent risk management for investors to begin to prepare for a Democratic victory in November.
At the start of 2020, Trump touted the 42 per cent increase in the S&P 500 seen during his tenure[1] and a 50-year record low in unemployment as a barometer of his economic success," Craig said. "But the rapid spread of Covid-19, which is not yet under control, has created an economic crisis not seen since the 1930s."
"Voters do not take kindly to economic underperformance. Sure enough, the political pendulum has swung dramatically in the past few months, with polling suggesting that a victory in both the Senate and Congress is within reach for Biden and the Democrats."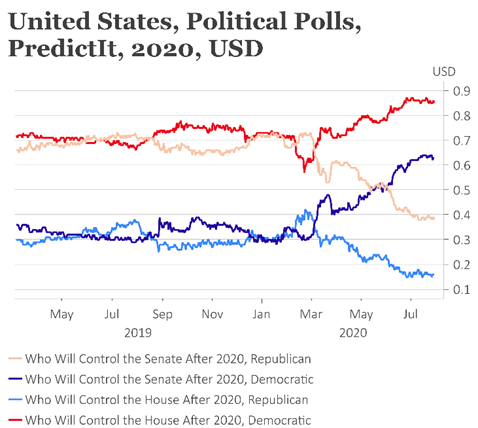 Source: Quilter Investors, PredictIt, 29 July 2020
However, as the 2016 US presidential election demonstrates, nothing is set in stone. A fact which Craig believes proves the case for a diversified portfolio, particularly as Covid-19 remains a real threat.
"Time and time again we have seen polls underestimate the depth of political feeling. The forces that guided Trump to victory in 2016 are still alive and kicking, and in the eyes of many of his supporters he can do no wrong. 37 per cent of voters[2] still believe they are better off as a result of Trump, so it may be that the economy settles the debate, especially if there is an improvement later this year. Once more, polls are an indication of the popular vote, but it is the electoral college that really counts. This is all the more reason for investors to be prepared; anything can happen."
Craig outlines four key areas investors must consider when preparing for the election:
It's the economy, stupid
If Biden reaches the Oval Office, it is likely he will partially or fully reverse Trump's corporation tax cut once the Covid-19 disruption has eased. Besides worsening market sentiment, a tax hike for businesses will impact earnings per share across US indices. Investors may consider rebalancing their portfolios away from US markets, particularly if they are currently overweight US equity.
But investors must prepare for the unexpected. If Trump wins, there could be a repeat of the market movements seen in 2016. Banks, industrials and infrastructure all performed well last time round and we would expect a similar trend in this scenario too."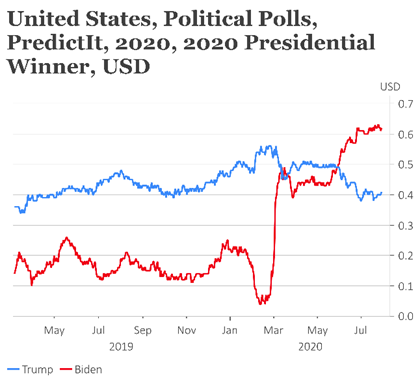 Source: Quilter Investors, PredictIt, 29 July 2020
It's fair to say Trump has the more laissez-faire attitude to the environment. His tenure in the White House marked an about-turn in environmental policy, going radically against the grain when compared with leaders of other developed nations. He called man-made climate change a hoax, rolled back various environmental protections, ended the Clean Power Plan and recently withdrew from the Paris Climate Agreement.
In contrast, Biden has outlined a $1.7 trillion climate plan which aims to ensure the US achieves a 100 per cent clean energy economy and reaches net-zero carbon emissions no later than 2050. There will be clear winners and losers from this plan. Should Biden take the White House and Senate, then investors should expect renewable energy companies to do well, while the industrials that have prospered during Trump's presidency will lose out.
Cold War 2.0?
A new cold war with China will be bad news for markets and will prolong the economic rout caused by Covid-19. Given Biden's pre-existing relationship with China's premier, Xi Jingping, a Biden victory looks to be the more market friendly outcome as he will be more likely to strike a conciliatory tone and roll back some, if not all, of the tariffs put in place by Trump.
But past relationships are no guarantee of future political actions. Since Trump's economic ammunition has been lost, he will make a point of criticising Biden for being soft on China; attempting to force him off the fence and towards a strong position. The ongoing political crisis in Hong Kong, clashes over climate change and the inevitable investigation into the cause of Covid-19 will all drive a wedge in Biden's relationship with China. Companies relying on China as a key export market should take note."
Onward march of tech?
Biden's support for a $15 minimum wage will be felt asymmetrically across markets. Labour-intensive sectors with tight margins such as retailers will feel the squeeze as their cost base increases. But for less labour-intensive and high margin sectors such as tech, the wage increase will likely have a net benefit given the additional disposable income it will provide to consumers.
---
Achieve 3-5% More Currency: The Global Reach Best Exchange Rate Guarantee maximises your currency purchasing power. Find out more.
Brexit Helpline: Free one-on-one financial, currency, pension and legal guidance and preparations for 2021.
Find out more

Invest in Spanish Property. A selection of discounted properties due to the covid-19 crisis, online viewings and transactions possible. Download the guide. Download the Guide
Featured Content
Mortgage Direct - a Spanish mortgage broker specialising in the provision of mortgages for expats - have confirmed they have secured their Spanish license.