UK Inflation Resilience to Lure Bank of England From Sidelines Before Long 
© IRStone, Adobe Stock
- UK inflation falls in December as petrol prices retreat further.
- But core inflation rises as housing costs and taxes advance.
- Economists say inflation will force BoE to hike again in 2019.
Inflation fell to within a whisker of its target in December, according to official data released Wednesday, although changes in other measures of prices have led economists to claim the Bank of England (BoE) will be forced to come off the sidelines before long.
The consumer price index came in at 2.1% for December, down from 2.3% previously but in line with the consensus among economists. However, core inflation rose from 1.8% to 1.9% during the same month.
Core inflation excludes volatile commodity items like fuel, food, alcohol and tobacco from the goods basket so is thought to provide a more accurate reflection of domestically generated price pressures.
Falling fuel prices were behind the decline in the main inflation number, although their impact was tempered by rising council taxes, which saw the cost of housing and household services make a significant upward contribution to inflation during the month.
The fuel price changes are excluded from the core rate of inflation whereas the housing costs are all included within the basket for that measurement, which explains why the headline rate of inflation fell but the core rate rose.
"The lower headline rate distracts from rising "underlying" services inflation," says Samuel Tombs, chief UK economist at Pantheon Macroeconomics. "Our forecast assumes that services inflation remains on its current upward trend; the risks here are evenly balanced. Modestly below-target inflation, however, won't stop the MPC from hiking Bank Rate."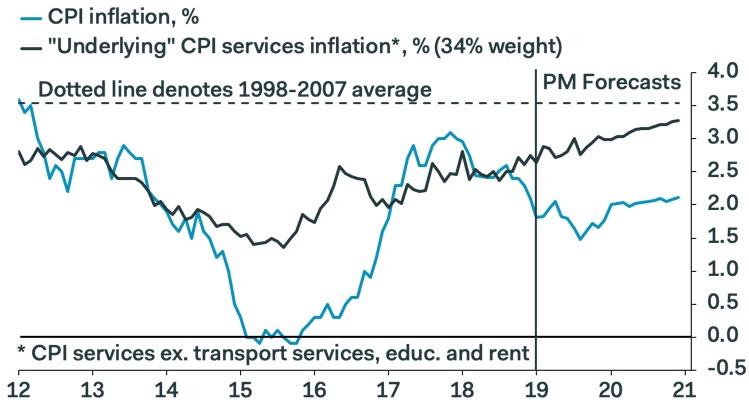 Above: Pantheon Macroeconomics graph showing services and CPI inflation forecasts.
Markets care about inflation data because it has a direct bearing on Bank of England interest rate policy. It is price pressures that central banks are attempting to manipulate when they tinker with interest rates. BoE forecasters say that even with further rate hikes, the consumer price index will still remain close to the 2% target level over the next two years or so.
The Bank of England (BoE) has raised its interest rate twice since November 2017 and has said it will lift borrowing costs even further over the coming quarters if the outlook for inflation remains consistent with its forecasts. Economists say uncertainty over the Brexit process is the only thing to have prevented the bank from hiking rates again before now.
"The MPC has raised rates several times in the past when the prevailing rate of inflation has been below target, because it feared that domestic price pressure would build if it did not act. And with external pressures depressing inflation and a recovery in wage growth in train, we suspect it won't be too long before the MPC reaches the same conclusion again," says Ruth Gregory, an economist at Capital Economics.
The Bank of England's latest forecasts suggest the consumer price index will fall again in January but that it will average 2.1% in 2019 even after one more rate hike. However, actual inflation and the exact policy response will depend on the outcome of the Brexit process as well as the pace of economic growth at the end of last year and over the coming quarters.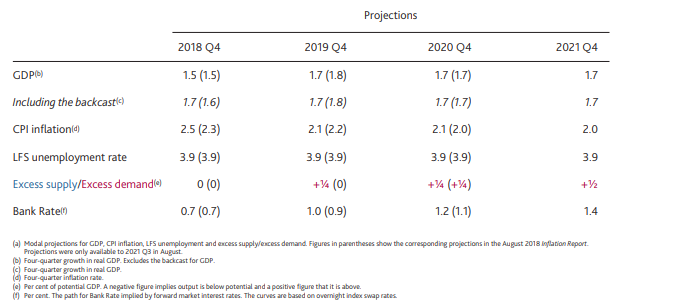 Above: Bank of England economic forecasts made in November. Source: Bank of England.
Prime Minister Theresa May's government will face a vote of confidence in parliament Wednesday evening as a consequence of MPs having rejected the PM's propose method of exiting the European Union in a landslide vote that made the defeat the largest on parliamentary record.
Analysts say the government is likely to win the vote but there is significant uncertainty over what will happen after that point because there is no majority in parliament that favour May's Brexit proposal, or any other, and calls from opponents of Brexit for a second referendum or another election are growing louder.
There is now a significant group in parliament seeking a device it can use to stop an exit from the EU, but the default legal position is that unless PM May's "Withdrawal Agreement" is approved by parliament, the UK will automatically exit the EU on March 29 and default ot trading with it on World Trade Organization (WTO) terms.
Most economists say that would be bad for the economy, and that abandoning the exit process altogether would lead to a significant pick-up in growth. If they are right then any resolution of the so-called impasse in the Brexit process over coming weeks could give the BoE a green light to raise rates again as soon as April.
However, failure by parliament to a agree another rout out of the EU could see the BoE sidelined and forced to keep its interest rate on hold at 0.75% for longer, as it waits to see the impact that an EU exit on WTO terms could have on the economy.
Bank-beating exchange rates. Get up to 5% more foreign exchange by using a specialist provider to get closer to the real market rate and avoid the gaping spreads charged by your bank when providing currency. Learn more here
Featured Content
Mortgage Direct - a Spanish mortgage broker specialising in the provision of mortgages for expats - have confirmed they have secured their Spanish license.