Canadian Dollar Forecasts Revisted at Bank of America Following Bank of Canada Rate Hike
Above: Governor Macklem might be too optimistic on near-term Canadian economic performance says Bank of America. File image: Bank of Canada.
---
Up, down and up again is how to describe the path of the Canadian Dollar over the coming days, weeks and months, according to the latest assessment from Bank of America.
In the wake of the Bank of Canada's interest rate hike delivered on July 12 analysts at the Wall Street bank say the Canadian Dollar can extend its strength over the coming one to two weeks.
"The USD/CAD selloff for the past week (-1.55% since July 6) has been aggressive, ranking at 96th percentile vs the past 10 years," explains Howard Du, an analyst at Bank of America. "When USD/CAD has sold off by more than the past week in the last 10 years, we find the sell-off tended to continue for the next two weeks, with a hit ratio of 64% and median loss of another 0.4%."
The Dollar-Canadian Dollar exchange rate (USDCAD) fell a third of a percent on Wednesday after the BoC lifted the cash rate to 5.0% after observing "more persistent excess demand in the economy".
The move was exacerbated by an undershoot in U.S. inflation, a development taken into account by Du when he says, "USD/CAD could fall to somewhere around the year-to-date low of 1.3117 on the back of broad-based post-CPI USD weakness."
Turning to a one to two-month timeframe, Bank of America says there is scope for a pullback in the Canadian Dollar.
For one, analysts reckon the Bank of Canada's latest projections for the economy are too optimistic: The BoC revised 2023 growth forecast higher from 1.1% to 1.8% while only slightly revised down 2024 forecast from 1.9% to 1.5%.
---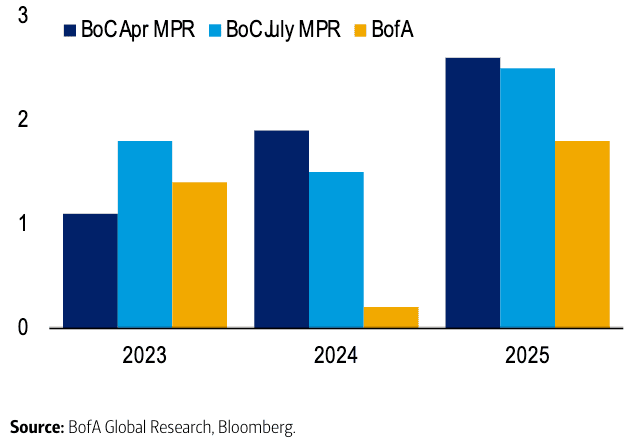 Above: "Latest BoC growth forecast is optimistic vs our forecast: BofA. Chart shows annual growth forecast for Canada.
---
"These growth projections along with Governor Macklem's response in the press conference suggest to us the BoC leans more towards the "no-landing" camp for growth," says Du.
Bank of America sees at least a moderate downturn by H1 2024 for developed countries that have aggressively raised policy rates over the past year, which includes Canada.
"Any downside surprise in the economic data before the next BoC meeting in September should lead to the rates market pricing out rate hikes for rest of the year and for USD/CAD to retrace toward our Q3 forecast of 1.32," says Du.
---
Above: CAD risks. "Canada has one of the highest household debt to GDP ratio in the world" - BofA. Chart shows household debt to GDP ratio for major countries.
---
Looking towards year-end and the multi-month timeframe, Bank of America expects the Canadian Dollar to ultimately recover and push USD/CAD lower again.
"We have had an out-of-consensus bullish CAD view since the start of this year. For now, the macro drivers for CAD still remain favourable, and we would maintain our downtrend forecast path for USD/CAD where we see the pair reach 1.30 by the end of the year," says Du.
Bank of America equity strategists see upward momentum in the equity markets, to which USD/CAD is negatively associated, meanwhile, energy prices have also rallied back to be more in line with the bank's commodity research team's forecasts.
Risks to the currency would include a more severe hit to indebted Canadian households as a result of rising interest rates.
"Latest BoC rate hike has indeed raised the odds of a growth hard landing for Canada, which would increase the risk to our bullish CAD forecast should Canada experience a sharper growth shock than the US due to central bank overtightening," says Du.
---
Above: CAD risks. "Household debt service ratio is close to 2008 level" - BofA. Chart shows Household debt service ratio (saar).
---