Canadian Dollar Underpeforms but Could Yet Cause "Considerable Pain" to Currency Traders
Image © Pavel Ignatov, Adobe Stock
Achieve up to 3-5% more currency for your money transfers. Beat your bank's rate by using a specialist FX provider: find out how.
The Canadian Dollar underperformed on Friday, continuing a trend that shows little sign of abating although some analysts say the Loonie could cause traders considerable pain if USD/CAD falls beneath July's lows in the weeks ahead.
Canada's Dollar got no help from wholesale sales data for May on Friday, after Statistics Canada said the sales to retailers grew by only 5.7% that month after having declined by -21.4% in April. Consensus was for a 7.4% rebound.
"That represents only a recovery of about 18% of the 2020 decline," says Katherine Judge, an economist at CIBC Capital Markets. "Wholesaling wasn't hit quite as hard as either retailing or manufacturing in March and April, and the industry didn't see much of a bounce in May."
Canada's Dollar continued its earlier move lower following the data even as U.S. Dollar selling resumed amid a cautious calm in stock markets ahead of the weekend, although the Loonie and greenback were joined in their underperformance by Sterling, which trailed all of its major rivals.
"The loonie continues to be driven by macro conditions as opposed to domestic fundamentals," says Sarah Ying, an FX strategist and CIBC colleague of Judge's. "For USD/CAD, we see immediate support at the 1.3500 mark and broad price action is expected to remain within the 1.34-1.37 range."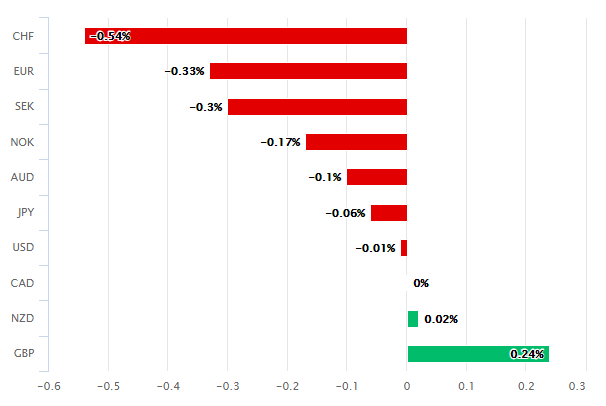 Above: Canadian Dollar performance on Friday. Source: Pound Sterling Live.
Little is known about what happened to Canada's economy after its first full month of lockdown in April, other than that by the end of June it had added back 40% of the jobs lost in March and April. Statistics Canada data shows 1.24 million jobs added back by June when some 3 million were lost earlier.
Similar is true of most other economies but individual and often lagged domestic fundamentals have mattered little to markets that have been fixated on suppression of the coronavirus across much of the developed world and other big picture concerns that have turned the tables on the greenback and enabled riskier currencies to rebound.
"G10 FX markets are fairly quiet. The US Dollar, Sterling and CAD are all broadly lower (USDCAD flat at 1.3576)," says Ned Rumpeltin, European head of FX strategy at TD Securities. "Earlier this week we floated the theory that some G10 currencies were ready for a stronger directional move. We are off to a slow start but think the jury is still out. After several weeks of consolidation, we continue to think that market are starting to ripen for an eventual breakout from familiar ranges if broader risk appetite permits it."
U.S. Dollars have been sold heavily this last month and it wasn't until the fortnight to Friday that the greenback began to resist further losses, but amid all of this the Canadian Dollar and Sterling have been left trailing other rivals.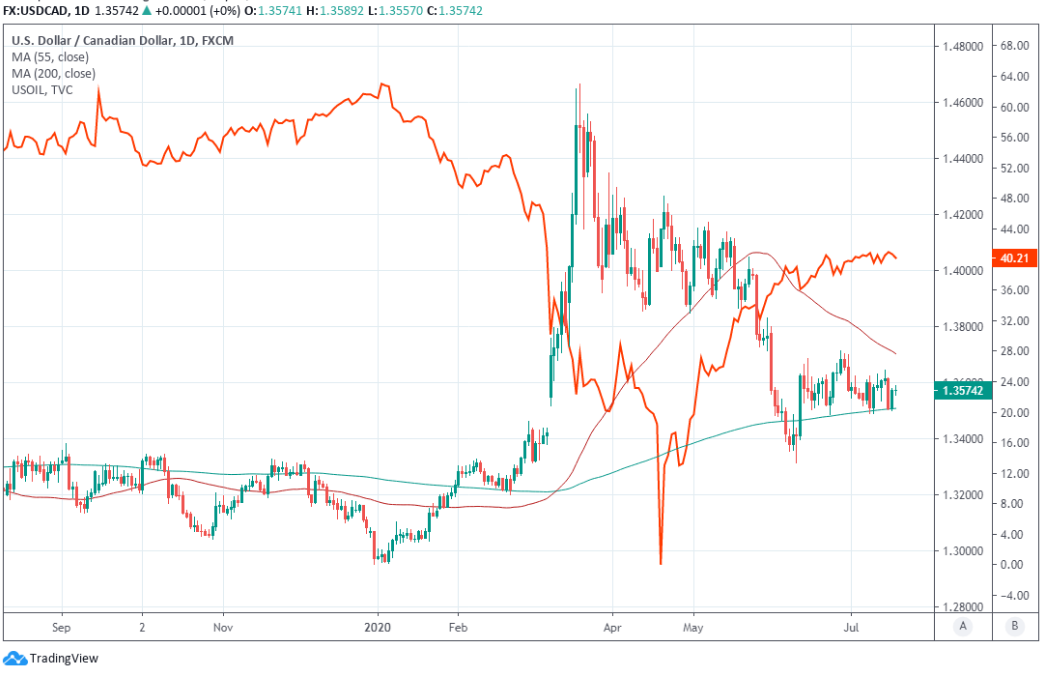 Above: USD/CAD shown at daily intervals with 21, 55 and 200-day moving-averages and WTI crude oil futures (orange line).
USD/CAD remained a fraction higher and GBP/USD lower for the week Friday, which wouldn't be controversial if not for all other major currencies having retaken ground previously lost to the greeenback this week and for the month.
Oil prices have notched up only modest gains this week, just like their equity market counterparts while copper futures have fallen and the Canadian Dollar has had a strong positive correlation with all three of late. But price action in stocks and commodities still leaves this month's Canadian Dollar underperformance cloaked in mystery when the currency is observed in isolation. But standing the Loonie next to the U.S. Dollar and Sterling offers insight into what might be holding back all three.
"Many economic indicators recovered significantly after the low point in April, with retail sales even showing a V-shaped pattern. However, risks to the economy have increased in recent weeks as the number of infections in the US has risen sharply. High-frequency data already indicate a slower pace," says Bernd Weidensteiner, an economist at Commerzbank, of the U.S. "The pace of recovery is therefore expected to slow down markedly as early as July."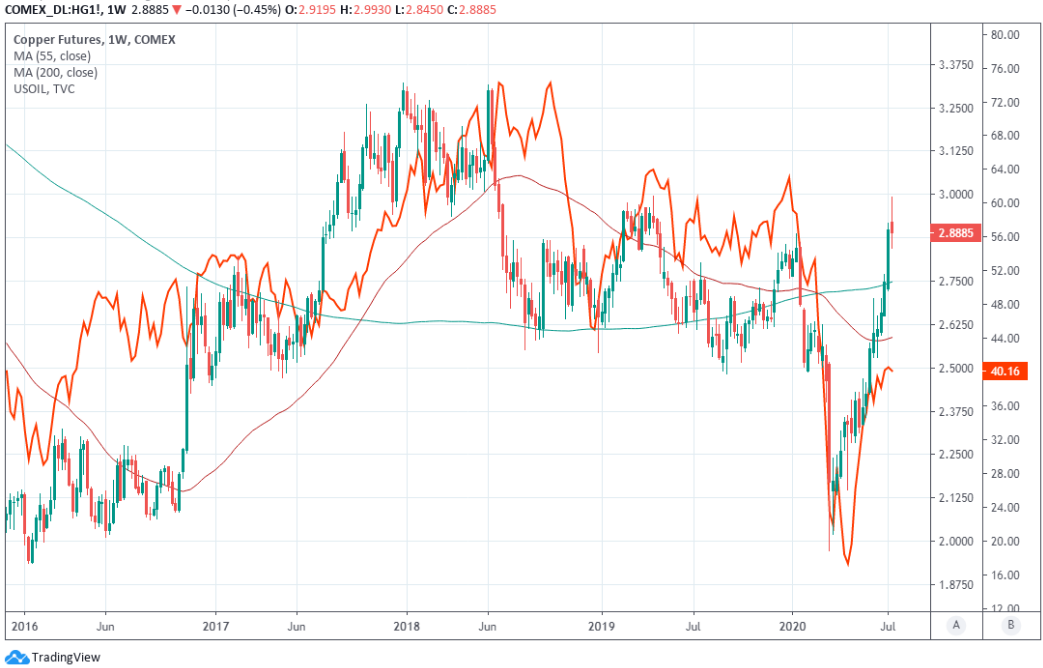 Above: Comex copper futures price shown at weekly intervals alongside WTI crude oil futures (orange line).
The U.S. economic recovery may have been constrained this month by a second wave of coronavirus infections, and Canada's proximity to the world's largest economy not to mention dependence on it as a source of demand for oil exports, could explain the Loonie's underperformance.
The UK only just on July 04 allowed pubs and restaurants to reopen given a comparatively worse outbreak that's imposed heavier costs on an economy already in dire straits and which is still contending with a looming Brexit. That neatly explains Sterling's position at the bottom of the major currency class.
If Canadian Dollar underperformance can be explained by the misfortune of its southern neighbour then the outlook for containment in the U.S. would be an important influence on the Loonie going forward. The U.S. set another record for new infections this Thursday when it recorded 73,388, although if when the second wave peak comes the Canadian Dollar is able to make up for lost time then things might get painful for those betting against the Loonie.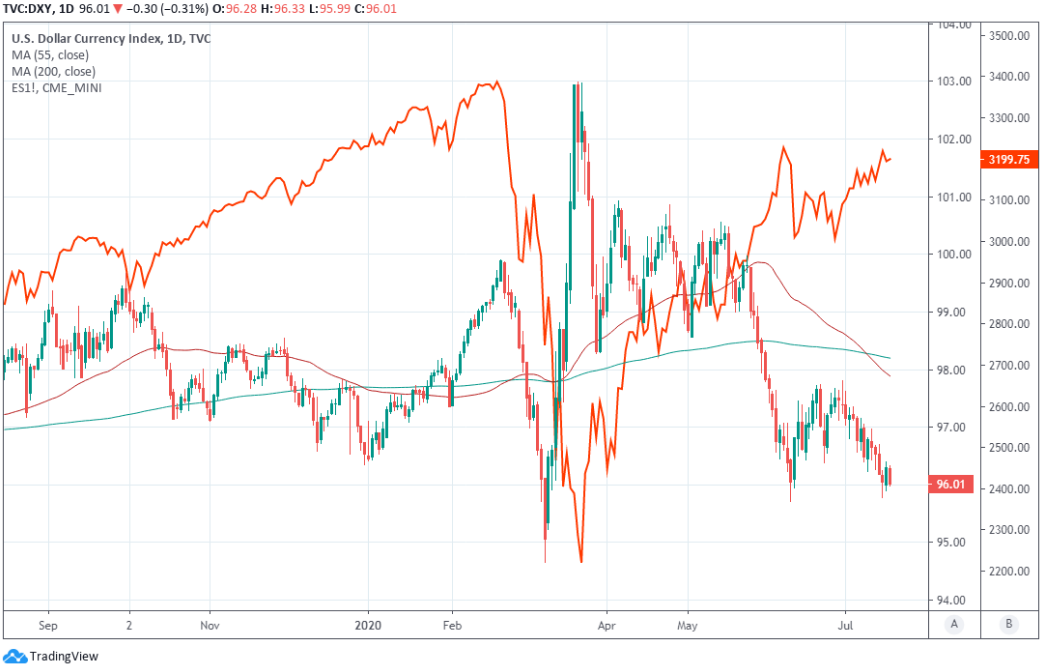 Above: Dollar Index shown at daily intervals with 21, 55 and 200-day moving-averages and S&P 500 index futures (orange).
"USDCAD is not tracking interest rate expectations right now. It is tracking the broad dollar and equities; both of those factors argue for a lower USDCAD," says Greg Anderson CFA, global head of FX strategy at BMO Capital Markets. "The more interesting pain point is still 1.3450. If it gets taken out, there will be considerable pain among FX investors."
Chicago Futures Trading Commission data shows investors lightening bets against the Loonie in the week to July 07, although it remained the most heavily shorted major currency when open positions are compared with the 52-week maximum, suggesting investors have remained bearish in their outlook. Pound Sterling and the U.S. Dollar were again the only other two major currencies where bearish bets came close to matching those aimed at the Loonie.
But wagers against the Canadian currency could become a source of upside in the weeks ahead if other investors are given reason to buy it and the resulting gains lead stop-losses to be triggered. A cascade of stops would lead to a wave of automatic additional bids for the Loonie and hurt those that were betting against it, with adverse implications for the Pound-to-Canadian Dollar rate that was testing the 1.70 level on Friday.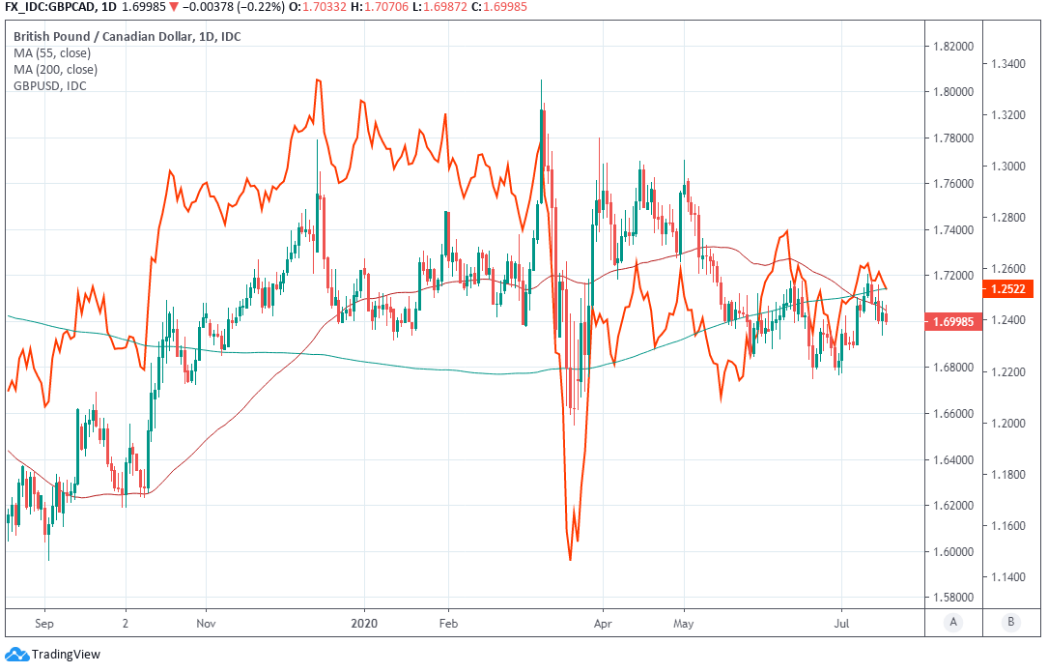 Above: Pound-to-Canadian Dollar rate shown at daily intervals alongside GBP/USD (orange).
---
Achieve 3-5% More Currency: The Global Reach Best Exchange Rate Guarantee maximises your currency purchasing power. Find out more.
Invest in Spanish Property. A selection of discounted properties due to the covid-19 crisis, online viewings and transactions possible. Download the Guide
Invest in Portuguese Property. A selection of discounted properties, online viewings and transactions possible. Download the Guide
Featured Content
Mortgage Direct - a Spanish mortgage broker specialising in the provision of mortgages for expats - have confirmed they have secured their Spanish license.