Australian Dollar "Underperformance is near its End" - BofAML
-AUD weakness nearing its end, has scope to recover says BofAML.
-Chinese risks already priced in, AUD fundamentally undervalued.
-AUD to rise against most G10s but forecast to fall 4% against GBP.
© Rawpixel.com, Adobe Stock
The Australian Dollar is close to bottoming out and may soon recover lost ground from its international rivals, according to strategists at Bank of America Merrill Lynch, who say all of the bad news is now in the price of the Aussie unit.
This call comes after a six-month period that saw Aussie Dollar driven close to a 12-month low against the US greenback and a near 2-year low against Pound Sterling, as a deteriorating outlook for Australian interest rates and rising geopolicital risks weighed on the currency.
"AUD underperformance is near its end in our view," says Adarsh Shinha, an FX strategist at Bank of America Merrill Lynch. "The AUD trade weighted index is trading close to its lowest level since 2015-16, a time when the China macro backdrop was more negative and it is in fact undervalued relative to interest rate differentials and terms of trade."
Interest rate differentials have been a major source of downward pressure on the Aussie in 2018 as the Reserve Bank of Australia has all but told markets it has no intention of raising the Aussie cash rate from its current record low of 1.5% for some time to come, while other central banks across the globe are now withdrawing "stimilus" provided during the post-crisis years.
This has seen Australian bond yields overtaken by those of their US counterparts while the gap between yields on Aussie government debts and those of other developed world economies such as Canada, the UK and Europe have also narrowed.
As a result the Aussie, which has typically benefitted from the support afforded to it by higher interest rates, has come under increasing pressure in 2018. But the Bank of America FX team say this move has now gone too far, particularly as China should become a supportive factor for the currency going forward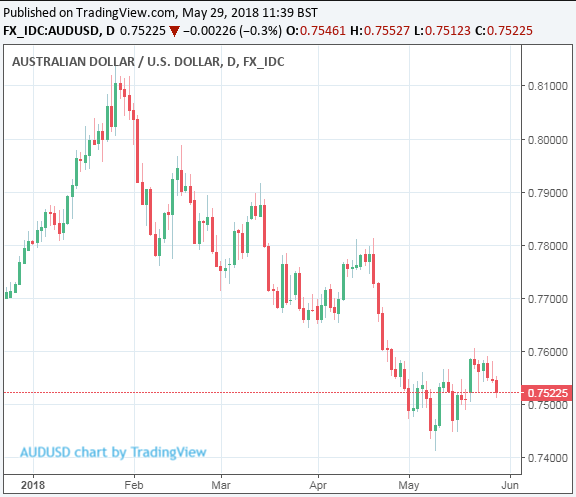 Above: AUD/USD rate shown at daily intervals.
"Over the past several months, we were cautious of an investment-led slowdown in China and its implications for AUD. While this slowdown is far from over, we argue the impact on the AUD will be more muted given some sequential stabilisation in high frequency data and likelihood of more accommodative monetary policy in China," Shinha adds.
Close economic links to China, which is the largest buyer of key Australian export goods such as iron ore and liquified natural gas, weighed on the Aussie Dollar in recent months as markets contemplated the likely implications of a so called trade war between the China and the US. Concerns over the Chinese economic outlook have also been a burden.
However, US Treasury Secretary Steven Mnuchin told Fox News earlier in May that the "trade war is on hold" after US and Chinese representatives reached a deal to reduce the bilateral trade deficit between the two countries, suggesting the worst case scenario of an escalating tit-for-tat tariff fight may now be avoided.
"If anything, we believe the divergence between China's import impulse for commodity vs. manufactured goods, reflected in AUD's weak level against Asian currencies, is unlikely to sustain," Shinha writes, in a recent note.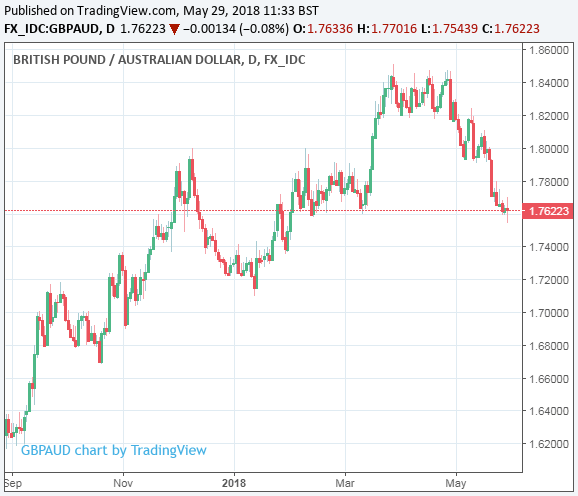 Above: GBP/AUD rate shown at daily intervals.
Moreover, data released in April showed the Chinese economy growing at a steady pace of 6.8% during the first quarter while stronger than expected industrial production data released in May suggested the economy entered the second quarter on the front foot.
So with risks to the currency beginning to recede, Shinha and the BAML FX team are now eyeing the Australian Dollar as a likely outperformer during the months ahead, particularly against the developed world currencies.
They flag the Euro-to-Australian-Dollar rate as one exchange rate likely to suffer the particularly noteworthy declines given recent gains for commodity prices.
"Our models like AUD on the crosses vs. EUR, CAD and GBP. This agrees with our fundamental strategy," says Vadim Iaralov, a quantitative strategist at BofAML. "AUD has outperformed EUR as commodity prices have risen broadly. The EUR/AUD Moving Average Aggregator (MAA) has fallen to 43% after reaching 100% in late March. This suggests a new downtrend is being formed in EUR/AUD."
Above: EUR/AUD rate shown at daily intervals.
Presumably, recent developments in Eurozone politics that have seen an anti-Euro coalition of parties reach the cusp of power in Italy will only serve to increase the prospective downside for the EUR/AUD rate and hasten its decline.
After all, the Italian political crisis deepened over the weekend, suggesting caution will linger around the Euro for some time to come, while the EUR/USD and EUR/AUD exchange rates have both fallen more than 4% during the month of May already.
Advertisement




Get up to 5% more foreign exchange by using a specialist provider to get closer to the real market rate and avoid the gaping spreads charged by your bank when providing currency. Learn more

here