Australian Dollar Seen "Rolling Over" Against the USD as Chinese Fillip Wanes
- "Fair value" for the AUD/USD is falling as interest rates diverge
- US rates to move higher but there is little chance of change at the RBA
- AUD/USD has broken the back of its earlier rally and is headed to 0.75
© Filipe Frazao, Adobe Stock
The Australian Dollar has failed to sustain a break above its 2017 high against the US Dollar and now looks set to weaken further against its American rival over coming days, according to multiple currency strategists.
Australia's Dollar was quoted 0.29% lower at 0.7766 during the morning session in London Friday and is down by more than 1% for the week overall. The Pound-to-Australian-Dollar rate was 0.60% higher at 1.7998.
The currency had enjoyed a boost earlier in the week when Chinese industrial production, fixed asset investment and retail sales figures emerged stronger than expected for the month of February. This effect of this fillip now appears to have waned.
"The outsized decline yesterday was unexpected as AUD registered a loss of -1.02%, the largest one-day drop since early February. We have previously expected a stronger rebound to 0.7940 but this is not expected to happen after yesterday's price action," says Quek Ser Leang, an FX strategist at UOB Bank in Singapore. "The sharp down-move has shifted the immediate pressure to the downside."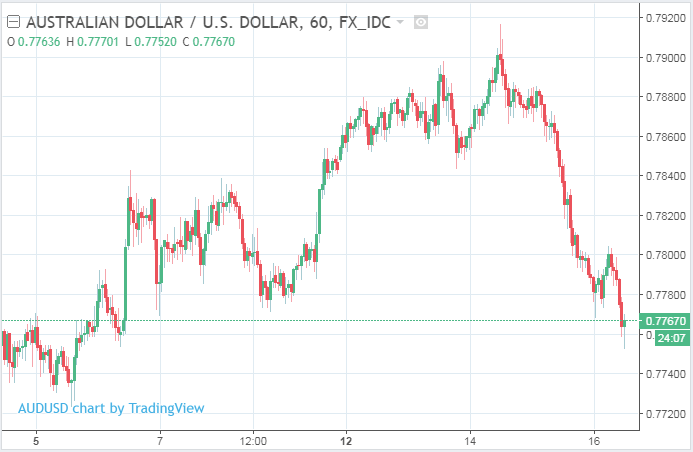 Above: AUD/USD rate shown at hourly intervals.
Expectations of further imminent downside are drawn mostly from technical analyses but these convictions also have the winds of relative fundamentals in their sails too.
After all, the relative interest rate equation has moved heavily in favour of the US Dollar of late as the US economic outlook perks up and the Australian economy motors along at a decent but still-insufficient pace.
Australian GDP growth came in lower than was expected for the fourth quarter while growth was just 2.4% for the year overall, down from 2.9% in 2016.
Meanwhile, the Reserve Bank of Australia recently appeared to have become less confident in its forecasts for growth in 2018 and 2019 too.
It said around the same time the GDP number was released that it expects the economy to "grow faster in 2018 than it did in 2017". This marks a departure from the RBA's earlier, and more explicit, forecasts of 3.25% GDP growth in 2018.
In addition, Australian inflation remained subdued during the fourth quarter and, it turns out, fourth quarter wage growth was driven substantially by a less-important and unsustainable increase in public sector pay, not private sector pay.
All told, Australian interest rate outlook has dimmed in the New Year, as already-low inflation is being supplemented by weak wage pressures, which means the RBA has little incentive to consider a change in monetary policy any time soon.
Indeed, the Governor Philip Lowe said in a March speech "the Board does not see a strong case for a near-term adjustment of monetary policy."
Current pricing in interest rate derivatives markets, which enable investors to protect themselves against changes in rates and provide insight into expectations for monetary policy, suggests investors believe the cash rate will remain at 1.5% well into 2019. There is only a 60% implied probability of a rate hike before April 2019.
"The market has been in the process of rolling over after failing to sustain a break above the 2017 high. The recent daily close below 0.8000 strengthens this outlook and opens the door for a renewed wave of declines towards 0.7500," says Joel Kruger, an FX strategist at LMAX Exchange. "At this point, only a daily close back above 0.8000 would delay."
Above: AUD/USD rate shown at weekly intervals.
All of this contrasts with the situation in the US, where headline inflation is already above the Federal Reserve's 2% target and core-inflation is at 1.7%. US wages, while sclerotic, are also believed to be on a northward climb and what's more, all of this comes before President Donald Trump's tax cuts and other fiscal measures have had chance to do their work.
Those same interest rate derivatives markets are stacked heavily in favour of at least three interest rate hikes from the Federal Reserve in 2018, which will leave the top end of the Federal Funds rate at 2.25%.
"The Aussie remains somewhat pricey compared to short term fair value estimates, as yield differentials along the curve move steadily in the US dollar's favour. This weight on AUD should only increase over the next year or two," says Imre Speizer, an FX strategist at Westpac.
Nowhere else is this divergence in expectations more apparent than in the gap between yields on Australian and US government bonds which, in a historic turn of events, now favours the US Dollar.
Yields on two year Australian government bonds were just 1.98% Friday but, over in America, the equivalent government paper was carrying a yield of 2.28%.
The Australian Dollar has traditionally been supported against its developed market rivals by relatively higher interest rates, which command a premium for currency prices and also help to draw international money flows into the country.
However, the relative differences in economic performance and monetary policy now look to have brough about a regime change.
Westpac forecast the Australian Dollar will fall to 0.74 against the US Dollar before year end, while UOB and LMAX Exchange are looking for a further dip in the exchange rate over the coming days, to around the 0.75 level.
Advertisement




Get up to 5% more foreign exchange by using a specialist provider to get closer to the real market rate and avoid the gaping spreads charged by your bank when providing currency. Learn more

here

.