Pound to Australian Dollar Rate: Technical Forecast + Data and Events to Watch for the Exchange Rate this Week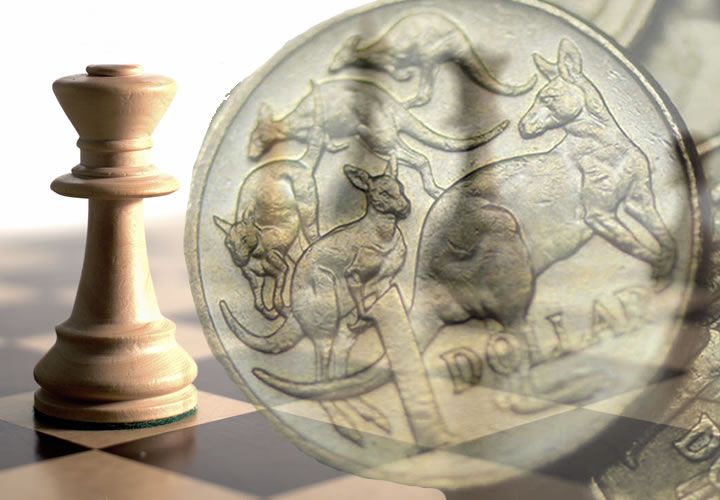 Rates at time of article's last update:
1 GBP = 1.7429
1 AUD = 0.5738
The GBP/AUD exchange rate has formed a bearish topping pattern on the daily chart, which suggests a strong possibility of further downside.
The latest developments in this market follow on from what has been a period of strong appreciation for Sterling against its Australian rival.
The pair has risen from lows registered around 1.60 back in mid-March to highs just above 1.76 in mid-May.
We have however since seen a retracement back to the 1.74s.
As yet, there is nothing unusual about this period of weakness as it has tended to precede the next big leg up in the exchange rate.
Wil this happen again, or will we witness a more protracted decline?
Our studies show the chart has revealed a pattern known amongst technicians as an "ending diagonal".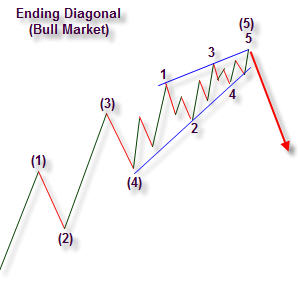 Ending diagonals come from Elliot wave analysis but you do not need to use Elliot waves to notice them as they are so distinctive.
These occur at the end of uptrends and often signal an imminent and strong sell-off in the pair and a reversal of the trend on a higher timeframe.
Below is an idealized image of an ending diagonal as well as a real life example on EUR/USD.
These images look very similar to the ending diagonal which appears to have formed on GBP/AUD.
The exchange rate broke below the lower borderline of the pattern on Friday before recovering back up to its level again.
In the process is formed a doji or dragonfly doji.
The break followed by the return move back to the trendline is probably what is known as a 'throwback', which is when the exchange rate breaks down and then moves back up to a trendline or pattern border immediately afterwards.
These moves are always followed by a resumption back in the direction of the breakout after the exchange rate has 'air kissed (the trendline) goodbye' as trader's talk describes it.
These are optimum entry points for traders seeking the alchemy of low risk/ high reward.
The breakdown and throwback suggests a continuation lower in the week ahead.
The MACD has just crossed its signal line and given a bearish indication.
We have taken the height of the pattern at its widest point (a) to calculate the potential downside (b), in a method similar to forecasting the extent of a triangle's breakout.
This appears to forecast a target at around 1.7100, although we see 1.7200 as a safer, 'more conservative' target.
For confirmation of more downside, however, we would first want to see a break below Friday's lows at 1.7344.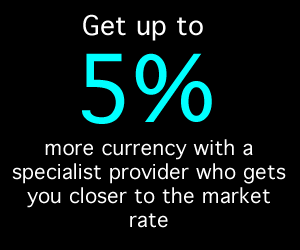 Data for the Australian Dollar
It is a busy week for AUD from a hard data perspective.
Monday kicks off with the Reserve Bank of Australia (RBA) meeting minutes, released at 2.30 (BST).
The Reserve Bank (RBA) were slightly more positive in their assessment of the economy but did not bring forward their rate hike expectations and, as a result, the Aussie sold off.
If the minutes show more detail which points to them remaining similarly resolute about not increasing rates then that could have a further dampening effect.
The Wage Price Index on Wednesday at 2.30 and Westpac Consumer Sentiment at 1.30 are both quite important.
The Wage price index will suggest what pressure there is on inflation and therefore the outlook for the RBA, but it is not expected to show much of a rise.
Consumer Sentiment is also significant as it tends to be reflective of public mood and precedes growth.
On Thursday, May 18, employment data is released and expected to see a 5k release in April and the unemployment rate remaining at 5.9%.
The focus will be on what proportion of new job gains are full-time as opposed to part-time, as the latter have tended to dominate stats in the past, due to employers not being able to offer longer hours.
The results may not be that different or produce much volatility.
"TD and the broader market aren't looking for a pickup in wages growth. For employment, seasonals were at play for the outsized March result and so we expect a small correction for April," said Canadian investment bank TD Securities.
Data for the Pound
Retail Sales, on Thursday, May 18 at 9.30 (BST) will probably be the most significant release in the week ahead as it covers the UK economy's current weak spot.
Consumer spending has slowed in the first quarter as the weak pound has put pushed up the price of many imports leading shoppers to limit the size of their baskets.
This slowdown in the high street is a major concern as if it continues it will depress economic growth significantly given that it accounts for the largest proportion of GDP.
Slower growth will lessen even further the likelihood of the Bank of England (BOE) bringing forward the time when they will raise interest rates.
Given relatively higher interest rates tend to attract more capital flows which increase demand for a currency the pound stands to lose out if the BOE adopt a more dovish tone – which by dovish means more inclined to cut rather than raise interest rates.
Inflation data, on Tuesday, May 16 at 9.30 is the other major release for the currency, as it too could impact on rate setting.
Headline CPI is expected to show a 2.6% rise compared to April last year and 0.4% on a monthly basis.
Unemployment and Earnings data are out on Wednesday at 9.30 and are forecast to show earnings rise by 2.4% compared to March 2016 whilst the unemployment rate is expected to remain unchanged at 4.7%.
The change in those seeking unemployment benefits, meanwhile, is expected to show a rise of 5k in April.
All three of these releases could impact heavily on sterling if they come out very different from expectations, with Kathy Lien of BK asset management, for one, seeing an upside bias to the releases:
"We expect most of these reports to surprise to the upside, particularly the labor data as the PMIs report some of the strongest conditions in the labor market this year," said Lien.