Pound-Australian Dollar Rate Rally Comes off the Boil, but Sterling's Gains Not Yet Done
- Recovery faulters as GBP heads to second loss Vs AUD.
- GBP retreats on concern over BoE, Brexit, growth outlook.
- AUD resilient despite multiple headwinds but risks abound.
- Fires and fundamentals leave AUD vulnerable to weakness.
Image © Desiree Caplas, Adobe Stock
- Pound-to-Australian Dollar spot exchange rate: 1.9040, down 0.15% on yesterday

- Indicative snapshot of rates on offer at your bank for money transfers: 1.8390-1.8520

- Indicative snapshot of rates on offer at independent money transfer specialists: 1.88-1.8880 >>Get a quote
The Pound-to-Australian Dollar rate recovery paused Thursday as Sterling retreated from a more resilient antipodean rival, although economic headwinds down-under could yet prevent it suffering significant declines.
Sterling underperformed all its major rivals Thursday after outgoing Bank of England (BoE) Governor Mark Carney told a conference in London that Monetary Policy Committee members are still contemplating cutting interest rates. Carney, who will leave the bank on March 16, claimed the BoE has scope to provide stimulus to the economy that is equivalent to 250 basis points of rate cuts despite Bank Rate being at only 0.75%.
"The risk from cutting rates or embarking on asset purchases now is that the BoE may be forced to sharply reverse course if inflation risks emerge later this year. Separately, amid the already easy monetary conditions, and with benchmark rates low across the curve (current 10-year gilt yield at 0.8%), a 25bp cut to the base rate – currently 0.75% – or a short burst of QE would have little economic benefit," says Kallum Pickering, an economist at Berenberg.
Above: Pound-to-Australian Dollar rate shown at hourly intervals.
"Sterling is the weakest of the major currencies today, shedding about 0.5% by around midday. Three considerations appear to be weighing on the pound," says Marc Chandler, chief market strategist at Bannockburn Global Forex. "Short-term rates in the UK fell on the comments. Second, UK retail sales over the holidays seemed to be boosted by discounts, and share prices of the UK's largest retailers are under pressure today. Third, the fear that the UK-EU negotiations could fail to reach an agreement."
Carney, who's term has been briefly extended but will be replaced over the coming months by BoE veteran Andrew Bailey, told markets there's still plenty of scope for more quantitative easing in the UK. His 'dovishness' took the Pound by surprise given that investors had generally perceived the outcome of the December election as something that not only reduced downside risks to the economy but also a development that might actually lead to a pickup in growth.
Even after December 's election result and Sterling's subsequent bounce, often billed as a 'Boris bounce', investors were still pricing some probability of a rate cut in the coming months. The market-implied Bank Rate for April moved from 0.58% in early December to 0.64% before Carney spoke Thursday, suggesting investors still saw around a 50% probability of a cut but also implied plenty of scope for an actual move to be fully priced in.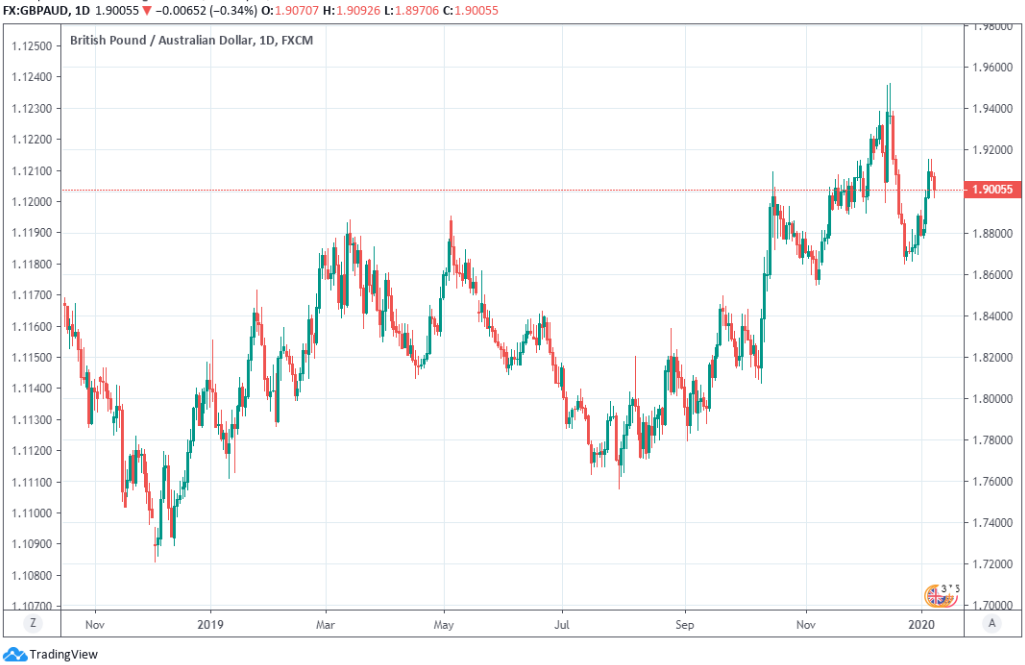 Above: Pound-to-Australian Dollar rate shown at daily intervals.

Aussie Dollar Resillience
Market expectations for BoE policy will be a key influence on the Pound-to-Aussie rate up ahead but so too will events down under and those are increasingly becoming a liability to the antipodean unit.
The Aussie showed resilience Thursday after being aided by official data that revealed another strong trade in goods and services surplus for November but the November retail sales report is now looming, the consumer sector has been soft of late and wildfires are now threatening the economic outlook.
"This morning saw another bumper Aussie trade surplus of AUD5,800m, with upwards revisions to the previous month, which throws the latest lifeline to AUD. And over in China we got CPI and PPI," says Michael Every, a Hong Kong-based strategist at Rabobank. "With CNH well below 7, and that trade deal not signed yet, it still looks a good time to be buying cheaper USD."
Every's colleague Jane Foley said last week that "weak wage growth, drought and forest fires are significant headwinds for the economy," and that as a result, there's a risk the Reserve Bank of Australia (RBA) will cut its cash rate from 0.75% to 0.50% next month in order to support the economy.
Above: AUD/USD rate shown at hourly intervals.
More than 100 fires continued to burn in New South Wales Thursday, while residents were fleeing the King Valley in Victoria and an inferno was encroaching on Kangaroo Island according to reports from The Australian. Dozens of people and millions of animals are said to have perished in the fires, which have diverted all kinds of resources away from their usual economic endeavour.
Rabobank, a global lender headquartered in the Netherlands, told clients to sell the AUD/USD rate on any moves up to the 0.70 level and forecasts the pair will fall back to 0.67 by the end of March. October's U.S.-China trade deal had led investors to hope the RBA could avoid further interest rate cuts but ferocious and increasingly politicised bush fires risk seeing rate cut speculation become a renewed headwind for the Aussie.
Meanwhile, the bank sees Pound Sterling is seen heading back to 1.28 against the U.S. Dollar over that same period, which actually implies a small degree of upside for the Pound-to-Australian Dollar pair in the months ahead. A GBP/USD rate of 1.28 and an AUD/USD rate of 0.67 would produce a Pound-to-Aussie rate of 1.91 at the end of March, which is slightly above Thursday's 1.90 level and suggests that weakness in the exchange rate may soon come to an end.
Time to move your money? The Global Reach Best Exchange Rate Guarantee offers you competitive rates and maximises your currency transfer. Global Reach can offer great rates, tailored transfers, and market insight to help you choose the best times for you to trade. Speaking to a currency specialist helps you to capitalise on positive market shifts and make the most of your money. Find out more here.

* Advertisement